Singapore Nanyang Polytechnic
1st grade of the Advanced Course of Chemical and Biological Engineering Mr. Shinji Kaneko
I went to Nanyang Polytechnic for about six weeks as an overseas intern. Nanyang Polytechnic is a college like National Institute of technology in Japan.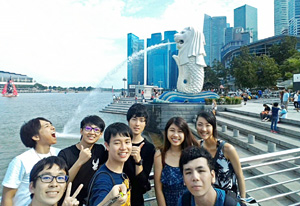 In front of Merlion
The laboratory I assigned was Chemical Engineering System. I had to finish my assignments by the appointed time, and I had to ask my teacher in English if I got stuck. The thing needed to us most was "Reporting, Contacting, and Consultation". Even though my English wasn't perfect, I was able to communicate with my teachers because I was willing to tell them my feelings, and I was able to finish my assignments without trouble.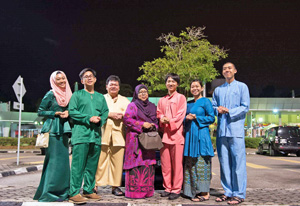 With my host family
I went to gym and pool in school with my Singapore friends of the same laboratory. The gym in school was fully equipped with air conditioners and many training machines, so I had great time after school.
On weekends, I went to Malaysia with my Singapore friend and his family by car. Singapore and Malaysia are connected by a bridge, so we they can go to other countries easily. I was very surprised at the fact.
By using English with your friends every day, you can improve your speaking skill of English which you can't usually acquire. You don't have lessons, and you have to communicate in English to do your research at a training at Singapore Polytechnic University. You can improve your English skill naturally, so if you should join the training if you are interested in overseas.
(August 11th to September 23rd, 2016 An overseas internship Nanyang Polytechnic)