NEWS
2017.10.23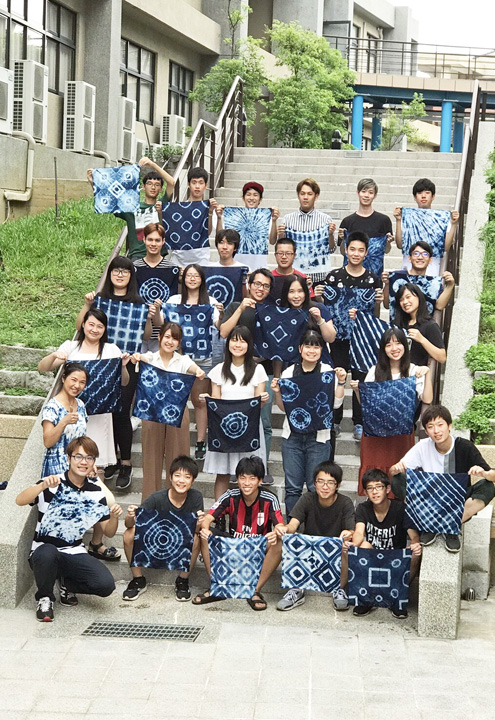 Taiwanese cultural experience: Indigo dyeing
A course completion presentation of overseas training at National United University, which Ube Kosen has concluded an academic exchange agreement with, in Taiwan was held on September 6th.
This training was split into 2 starts. 8 students of Advanced Course started from July 19th, and other students of Regular Course and the students from other Kosen started from August 14th.
For the first 2 weeks in the overseas study of Regular Course students' group, the students got a Chinese language training, and for the last 2 weeks, they broke into each laboratory at each department to do their research agenda and practical training. The Advanced course students' group did their research agenda and practical training at their special department for all one and half month.
The students of Oshima Kosen, Tuyama Kosen, Anann Kosen, Kisarazu Kosen, and Akashi Kosen also joined this training.
| | |
| --- | --- |
| Visiting a local high school | A cross-cultural training to Luodong night market in Yilan |
The students reported their result of the research in English at a course completion presentation.
Miss. Haruka Kaneko (The 3rd grade of the department of Business Administration)
I learned a lot and strengthened the relationship with people in this overseas training. It was my first time to go abroad, so I was worried at first. But the volunteer students of National University in Taiwan, and the other students of Ube Kosen and other Kosen helped me, so I really had fun time there. I will value this companionship, and will use in my life from now on.
| | |
| --- | --- |
| At a course completion presentation. | Attending a house party of one of their Taiwanese teacher. |
---
To the top