Australia Newcastle University
4th grade of the Department of Business Administration Miss. Mitsuko Tsumori
I went to Australia to study for about 5 weeks from August 23rd to September 26th, 2015.
I wanted to study abroad to communicate in English and experience different cultures or customs. I feel I had a great time there through this study abroad.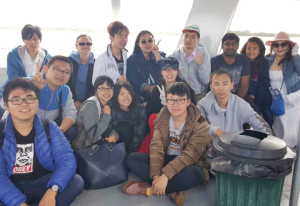 With my classmates in Australia
There were only 15 students in my class at Newcastle University, so it was easy to ask questions and talk with my classmates. Most of the students were from China in my class, and I was stimulated by them. They could tell people their opinions or feedbacks using examples or their experiences in English. On the other hand, Japanese students including me, could only answer with limited vocabulary. I wanted to tell my opinions or have conversation in English like they did. This experience helps me to improve my English.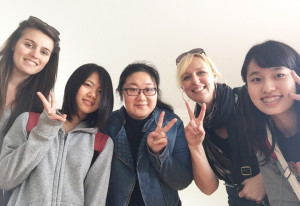 At her homestay
(Miss. Tsumori was the second from the left.)
I was able to learn the food, English expressions, and how to use them in everyday life at homestay.
Not only English skill, but also I could change my way of thinking through this studying abroad. I want to make good use of this experience.
(Studied abroad to Newcastle University from August 23rd to September 26th, 2015)