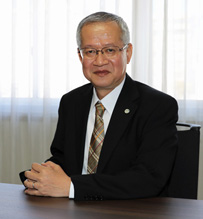 President YAMAKAWA Masao
National Institute of Technology (Kosen) provides technical training which is experimental and practical to students who are from 15 years old to 20 or 22 years old, the most sensitive time in life. Our school is established in 1962 and we have over 50 years of history. We have about 9,000 graduates and they are not only in Ube city but all over in Japan. Our graduates have received a high reputation from society.
Great engineers and researchers are required great personality. Our students learn not only technical specialized subjects but general education subjects as well for five years, from the 1st year to the 5th year. So they can receive a broad education.
You can take a two years advanced course if you complete our five years regular course. In the advanced course, you will challenge more practical assignments and creation based on what you learned in the regular course. You will have a total of 3 years of research if you combine graduation research at the 5th year of the regular course and special research in 2 years advanced course. It is also main aspect of Kosen.
Based on Ube Kosen core value "Take risks, Go deeper, Reach higher!", we cultivate engineers and researchers who will succeed in the world. Our students will have two different types of assignments. The first type of assignment comes with answers. The other type of assignment has no answers so that students have to find them by themselves. We believe that by challenging these assignments will make them to produce brand new products and create new technologies.
I appreciate your understanding and support for our school.