Taiwan National United University of Taiwan
1st grade of the Advanced Course of Production Systems Engineering Mr. Yoshinori Fujita
I went to National United University of Taiwan as an overseas internship.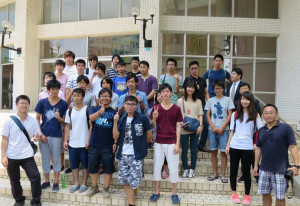 Group photo
(Mr. Fujita is the second row from the bottom,
fourth from the left.)
About 20 students came to our school to do a short-term exchange a few months ago, and I knew some of them, so I could communicate relatively well. I knew only little Chinese, so I used English to have a conversation, but I learned Chinese there and I could speak a little when I presented my achievement of this internship.
I could make a major accomplishment.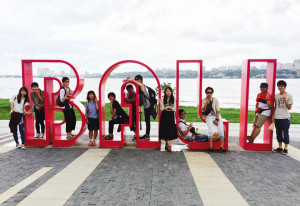 A photo while traveling on holiday.
I conducted a study till early evening, and played a game or went out with some students who were volunteering after that. The time we spent together was unforgettable and valuable.
I learned two things through this internship. The first one is that we can build good relationship with anyone if we willingly try to communicate. The second one is that we can understand each other using gesture without language.
This internship definitely inspires me for my future life.
(August 23rd to September 12th, 2015 An overseas internship National United University of Taiwan)