Singapore Summer Camp
4th grade of the Department of Intelligent System Engineering Miss. Midori Fujino
I joined Singapore Summer Camp from August 27th to September 13th, 2015. This is my second overseas training to join. The first one was when I went to National United University of Taiwan. I was in the 3rd grade.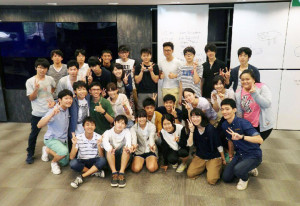 At an orienteering
The 50students from National Institute of Technology in the Chugoku region joined the Summer Camp. We studied at Singapore Polytechnic University on weekdays. We had classes from 9 a.m. to 4 p.m. including lunch break. In the class, we made a speech on decided title, played Karuta (Japanese cards) in English, watched a movie in English and made a poster of it, made a presentation in a group, did a comedy skit. These lessons were what I haven't experienced in my regular class in Japan.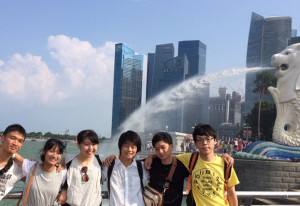 In front of Merlion
(Miss. Fujino is the third from the left.)
I enjoyed going to sightseeing places in Singapore, or going shopping with my friends after school and on weekends.
During this 18days' Summer Camp, I could gradually catch the English words, and I could feel my own growth. I think an overseas training is a great opportunity for us to grow ourselves. I would like to join these trainings if I have a chance from now on.
(August 27th ~ September13th, 2015. Singapore Summer Camp)