Taiwan National United University of Taiwan
3rd grade of Department of Mechanical Engineering Mr. Shintaro Yamamoto
I received a training at National United University in Taiwan for about a month from August 10th to September 10th. The contents of the training were studying Chinese and researching at a laboratory I was assigned. This training was my first overseas experience, but I could gain great experiences there.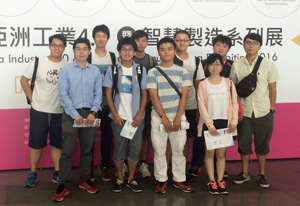 The members of my laboratory.
One of my English teacher said "7 % of communication is language, and 93 % is to be willing to communicate such as using gestures," and I knew he was right. Sure, I sometimes couldn't make people understand what I wanted to tell because of a language barrier, but it didn't bother me. I could dramatically improve my communication skill after the training because I willingly had conversation with many people to try to tell what I wanted to tell.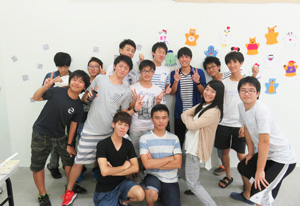 Chinese language presentation
On weekdays, we studied Chinese and did researches, and on weekends, we planned by ourselves and went to sightseeing in Taiwan. The days were fulfilling.
I got friendly with teachers and student supporters in Taiwan. We sang Chinese songs we learned, Japanese anime songs, and J-pop songs, also we took lots of photos during the last diner time.
I think this training will strongly affect for the rest of my life. I could experience what I couldn't do in Japan. The days I spent in Taiwan stimulated me, for example, what I thought was natural in Japan wasn't common in Taiwan.
(Studied abroad to National United University from August 10th to September 10th, 2016)