The University of Newcastle, Australia
3rd year of the Department of Intelligent System Engineering
Ms. Aoi Yamagata
I had a lot of great experiences when I went to study English to the University of Newcastle in Australia for 5 weeks.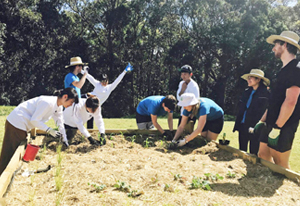 Gardening Volunteer
At university, we had total of 4 hours of English classes a day. We studied listening, reading and grammar by using print out and focused on speaking by doing followings; 1. We made simple conversations with classmates (Korean, Chinese, Saudis), 2. We repeated to record own speaking by reading a short story and checked pronunciations. We did a lot of speaking practices that we usually didn't in Japan.
Lunch break was 2 hours, so I could join some volunteer activities at the university. Also, I practiced English conversation with my Japanese classmates who I met there while we had lunch together. It encouraged me very much that I met people who had a same goal, to improve English.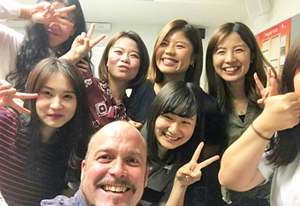 Last day of the course
I would like to mention about my homestay in Australia as well. I was nervous to talk to the host mother each time, but I managed to tell her my thoughts by doing my best. She took me many local places and cooked Australian meals for me. If I had visited Australia as personal vacation, I wouldn't have had such a wonderful experience.
I could improve not only my English, but myself as I met many people and felt the beautiful Newcastle nature.
(Studied English at the University of Newcastle, 2017/08/26 – 2017/10/02)