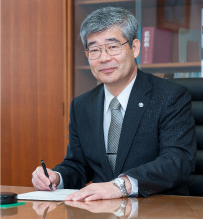 President MITANI Tomoyo
Ube Kosen is one of the 51 Colleges of National Institute of Technology with a 50-year history. We have produced over 8,000 graduates and have been credited with not only industry work, but also work various fields. Our school has a 5-year higher education program for students from 16 years old to 20 years old (a 7-year program if they go on to the Advanced Course) and it focuses on of consistent technology education.
The curriculum effectively combines experience learning, such as researching, laboratory teaching, and studying theory in a classroom. Great engineers need to have a well-rounded education. Therefore we offer courses in the liberal arts focusing on high school and university level curriculum.
Another feature of the higher grade education is that they can start researching for their thesis project early on. There is also special research for the Advanced Course students. If students go on to the Advanced Course, they will spend 3 years researching. They can experience the process of planning research or experiments, and analyzing the topic of their researches and the results. They may collaborate with company's engineers depending on topic of their research. It will be a great chance for the students to apply their experiments, laboratory teaching, knowledge, or skills in the real world. Through these experiences, many students have been remarkably growing in hearts and minds. Challenging the unknown world gives young people energy and confidence.
There is no border in the world of technology, so Ube Kosen proactively promotes international exchange. We have had partnership agreements with universities in Australia, Taiwan, Singapore, and Korea. And through the academic and culture exchange, we work hard to create students' global way of thinking. Intercultural experiences make the students grow as a person. Ube Kosen will continue to promote various international exchanges to cultivate engineers capable of making the world his stage.
We appreciate your continued understanding and support Ube Kosen.