NEWS
2017.06.13
One student of Ube Kosen was chosen as a member of "TOBITATE! Young Ambassador Program". This program is a Japan Public-Private Partnership Student Study Abroad Program launched by the Ministry of Education, Culture, Sports, Science & Technology.
On May 13th, the student reported to Mr. Mitani, the president of Ube Kosen that she was chosen as a member of the program.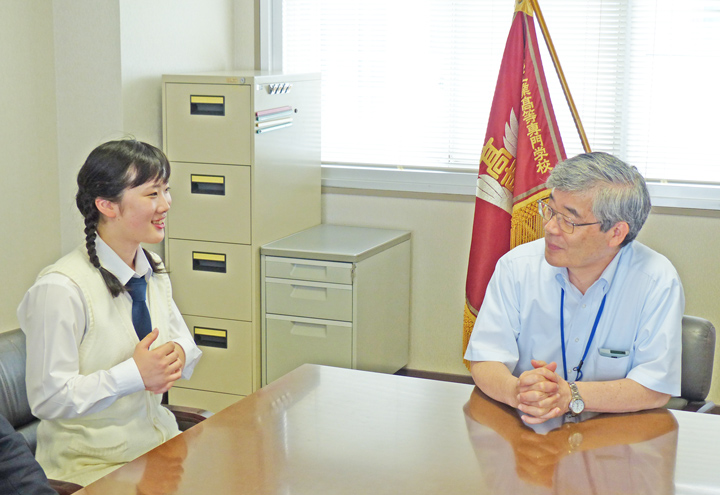 Miss. Yamamoto reporting to Mr. Mitani.
"TOBITATE! Young Ambassador Program, High school course" was recruiting the third generation this year, and Miss. Kana Yamamoto, the third grader of the department of Business Administration, passed the first paper exam, and the second interview. She explained her own plan for study abroad. Miss. Yamamoto applied for the second generation of the program last year, but regrettably, she was eliminated from the second stage of selection. She made her plan again with the constant effort, and she was adopted as a member of the program for the second time.
Her theme of study abroad is "A dance which is second to none", and she will go to Los Angeles to learn real HIPHOP dance. She will take English lessons and dance lessons, also she will give a tutorial on Japanese culture (about globefish dishes).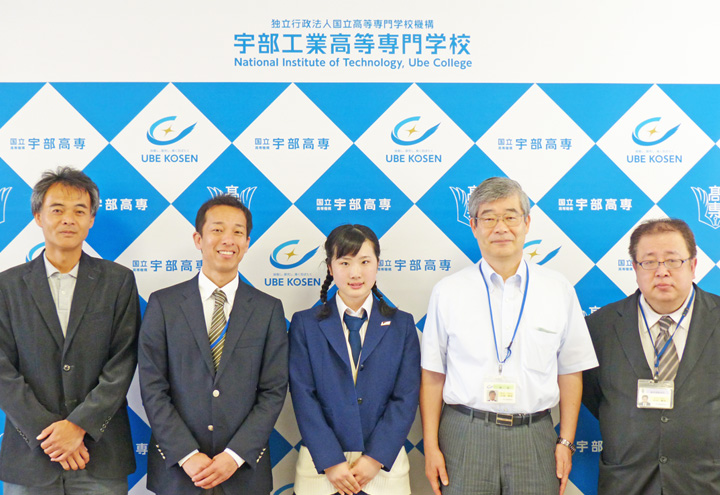 A group photo with the teachers involved.
Additionally, in high school course, there are Academic field, Sports / art field, Professional field, and International Volunteer field. Each field will be expected to continue to recruit the students who want to study abroad.
---