vol.4
Mohamad Syazwan Bin Mohd Fauzi
---
Department of Chemical and Biological Engineering
Nationality:Malaysia
Period:April 2019~March 2022
At Akiyoshido
Di gua Akiyoshi
What made you study in Japan?
Apa yang membuatkan anda membuat keputusan untuk belajar di Jepun?
I often heard the news about programs of learning in Japan when I was a high school student. Since then, I had a dream to study overseas. The reason I chose Japan was that Japan, the land of the rising sun, and Malaysia had a very good diplomatic relationship. Japan is a highly evaluated country in Asia, also has modern advanced technology. It would be a good opportunity to broaden my knowledge if I study in Japan. Also, I often communicated with my senior students who were studying in Japan, and I really wanted to study in Japan after I heard of their stories and experiences.
Ketika zaman sekolah menengah, saya sering mendengar berita berkaitan program belajar di negara dan sejak pada itu saya memasang cita-cita untuk menjadi salah seorang daripada pelajar tersebut. Antara sebab saya memilih Jepun adalah kerana Malaysia mempunyai hubungan diplomatik yang sangat baik dengan negara matahari terbit ini. Jepun juga merupakan negara yang sangat dikagumi di Asia serta mempunyai teknologi yang sangat moden dan perkara ini merupakan satu peluang untuk saya mengembangkan pengetahuan sekiranya saya dapat melanjutkan pelajaran di sini . Di samping itu, saya sering berhubung dengan senior yang belajar di Jepun dan setelah mendengar cerita dan pengalaman beliau, keinginan saya untuk belajar di sini semakin kuat.
What was the process to study in Japan? Why did you choose Ube Kosen to study?
Bagaimanakah anda dapat melanjutkan pelajaran ke Kolej Teknologi Ube? Selain itu, mengapa anda memilih kolej ini sebagai destinasi pengajian di luar negara?
After high school graduation, I applied for a scholarship program funded by the Malaysian government. I had to take an interview and I was accepted, then a two-year Japanese learning course was provided. I first had to pass an exam provided by the Ministry of Education, Culture, Sports, Science and Technology of Japan before I went to Japan. The Japanese government chose where I studied, I could not pick a school. But it was very good for me that I came to study at Ube Kosen.
Setelah tamat pelajaran di sekolah menengah, saya memohon program yang ditawarkan oleh kerajaan Malaysia. Kami perlu menghadiri temuduga dan jika terpilih kami akan ditawarkan kursus untuk belajar Bahasa jepun selama 2 tahun. Kami perlu melepasi satu peperiksaan yang dipanggil Monkashou sebelum berlepas ke Jepun. Kami tidak dapat memilih tempat untuk belajar di Jepun kerana perkara ini ditetapkan oleh pihak Japan. Tetapi belajar di kolej ini adalah satu anugerah buat saya.
How do you spend your time at Ube Kosen?
Bagaimanakah anda menghabiskan masa anda di Institut Teknologi Ube?
I went to the Atomic Bomb Dome in Hiroshima.
Lawatan ke tempat peninggalan Bom Atom Hiroshima

Japanese Culture Experience
Merasai budaya Jepun
My classes start in the morning and finish in the afternoon. After school, I go to play volleyball at the gymnasium. On weekend, the school plans many activities such as a short trip to an attractive place, Shodo event on weekend, so I am very happy staying at Ube Kosen. It was great that I experienced Japanese culture.

Pada siang hari saya menghadiri kelas dan apabila habis sesi persekolahan, saya pergi berlatih bola tampar di dewan sekolah. Kehidupan di Kolej Teknologi Ube sangat gembira kerana terdapat pelbagai aktiviti yang dijalankan oleh pihak sekolah seperti lawatan sambil belajar ke destinasi yang menarik dan acara-acara seperti shodou dan sadou membuatkan kami lebih gembira untuk untuk mengenali budaya Jepun.
Please tell us if you have any memorable things at Ube Kosen (or in Japan).
Sila beritahu kami tentang sebarang acara yang menarik perhatian anda apabila anda datang ke Kolej Teknologi Kebangsaan Ube (atau Jepun).
The experiments at the Department of Chemical and Biological Engineering were very memorable for me. As a student of the Department of Chemical and Biological Engineering, experiments are absolutely necessary. We conducted many experiments every week and I was able to obtain knowledge and experiences in different areas compared to Malaysia. I had to remember reagents in Japanese for experiments. I went back to the dormitory late at night after the experiments, but I was happy when I got a good experiment result. The experiments gave me feeling both of happiness and pain. Also, I had a good time with my classmates through the experiments.

Setelah sampai ke Jepun, eksperimen di kelas merupakan perkara yang sangat menarik buat saya. Sebagai seorang pelajar dalam bidang kimia, eksperimen merupakan perkara yang tidak asing buat saya. Kami menjalankan eksperimen yang berbeza setiap minggu dan hasil daripada perkara ini, saya memperolehi pelbagai pengetahuan dan pengalaman yang sangat berbeza jika dibandingkan di Malaysia. Ketika menjalankan eksperimen, terdapat perkara suka dan duka yang saya alami seperti perlu menghafal nama bahan dalam Bahasa Jepun, terpaksa pulang lambat untuk menyiapkan eksperimen dan tidak lupa juga kegembiraan sekiranya dapat menjalankan eksperimen baik di samping dapat mengenali kawan-kawan di kelas dengan lebih rapat lagi.
What did you learn at Ube Kosen?
Apakah yang anda pelajari di Kolej Teknologi Kebangsaan Ube?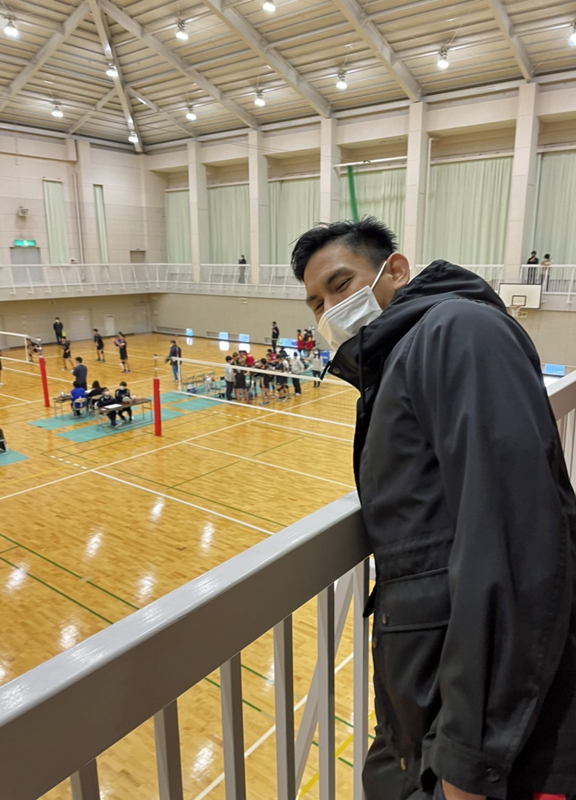 Volleyball game
Acara bola Tampar
Di sini, saya belajar pelbagai perkara bermula dari sudut pembelajaran sehinggalah ke sudut kedewasaan. Guru-guru dan kawan-kawan di kelas amatlah baik dan mereka memberikan tunjuk ajar tanpa rasa penat lelah. Sejak tahun ke-3 lagi, saya menyertai kelab bola tampar dan berlatih bersama-sama pelajar jepun. Hasil didikan jurulatih dan kawan-kawan, saya dapat belajar dan menyertai pelbagai pertandingan serta menjadikannya satu pengalaman yang terbaik dalam hidup saya.
Please tell us about your goal in the future.
Apakah matlamat anda untuk masa hadapan?
I will go back to Malaysia and go to a university to satisfy the Malaysian government's requirements to study overseas. I would like to contribute to developing Malaysian technology by using all the knowledge I obtained at Ube Kosen. I would like to be a great engineer in Malaysia!
Saya ingin menghabiskan pelajaran sehingga ke peringkat ijazah dan setelah itu saya ingin pulang ke Malaysia demi memenuhi syarat yang diberikan oleh kerajaan Malaysia. Saya akan cuba untuk menggunakan segala ilmu yang diperoleh di sini dan menjadikan Malaysia sebuah negara yang gah di mata dunia.
Please give a message to students who consider studying overseas.
Pesanan kepada junior yang terfikir nak belajar di luar negara.
It is very hard to study overseas, but you cannot have a good experience without any effort. So please come out from your comfort zone to be a better person by using an opportunity if you want to study overseas.

Belajar di luar negara sangat mencabar tetapi saya percaya disebalik kesusahan pasti ada kegembiraan. Jadi kepada junior yang ingin menyambung pelajaran ke luar negara, rebutlah peluang ini dan keluar daripada zon selesa anda supaya kita menjadi lebih baik.