vol.5
Chong Jun Yi
---
Department of Mechanical Engineering
Nationality:Malaysia
Period:April 2019~March 2022
What made you study in Japan?
Apa yang membuatkan anda membuat keputusan untuk belajar di Jepun?
I was interested in Japan since elementary school when I started reading Japanese manga such as "Doraemon" and "Detective Conan". I often went to convenience stores and bookstores to buy manga translated to Chinese. I was exposed to various Japanese cultures such as food and holidays, which made me want to visit Japan one day. When I was in high school, I started thinking about my future and decided that I will study mechanical engineering at university. I decided to study abroad in Japan, which has a high level of automobile and robotics technology, and is excellent in public safety and environment, so I applied for a scholarship to study in Japan.
Sejak di sekolah rendah, saya banyak membaca manga Jepun seperti "Doraemon" dan "Detective Conan", dan mula berminat dengan negara Jepun. Saya selalu pergi ke kedai serbaneka atau kedai buku untuk membeli manga yang diterjemahkan ke bahasa Cina. Saya didedahkan dengan pelbagai budaya Jepun seperti makanan dan perayaan di Jepun, yang membuatkan saya ingin melawat ke Jepun suatu hari nanti. Semasa di sekolah menengah, saya mula berfikir tentang masa depan saya dan memutuskan untuk belajar kejuruteraan mekanikal di universiti. Saya berhasrat untuk belajar di Jepun, yang mempunyai tahap teknologi automobil dan robotik yang tinggi, serta keselamatan dan persekitaran yang baik, oleh itu, saya telah memohon biasiswa untuk belajar di Jepun.
What was the process to study in Japan? Why did you choose Ube Kosen to study?
Bagaimanakah anda dapat melanjutkan pelajaran ke Kolej Teknologi Ube? Selain itu, mengapa anda memilih kolej ini sebagai destinasi pengajian di luar negara?
I came to Japan under the scholarship program for studying abroad by the Malaysian government. After graduating from high school, I went for an interview and successfully passed, granting me the scholarship to study abroad in Japan. Before coming to Japan, I studied not only Japanese but also Mathematics, Physics and Chemistry in Japanese in a two-year preparatory program in Malaysia. Based on the course desired, we were assigned to different Kosen. In the spring of 2019, I was transferred to the third year of the Department of Mechanical Engineering of Ube Kosen.
Saya datang ke Jepun bawah program biasiswa kerajaan Malaysia untuk belajar di luar negara. Selepas tamat sekolah menengah, saya berjaya lulus temuduga, dan mendapat tawaran biasiswa untuk belajar di Jepun. Sebelum datang ke Jepun, saya bukan sahaja belajar Bahasa Jepun tetapi juga Matematik, Fizik dan Kimia dalam bahasa Jepun dalam program persediaan di Malaysia selama dua tahun. Kosen yang akan kami masuk telah diputuskan mengikut kursus yang dikehendaki. Pada musim bunga 2019, saya telah masuk ke tahun ketiga kursus Kejuruteraan Mekanikal di Ube Kosen.
How do you spend your time at Ube Kosen?
Bagaimanakah anda menghabiskan masa anda di Institut Teknologi Ube?
With short-term international students
Pelajar antarabangsa jangka pendek

Yukata experience (Jun-yi on the right)
Pemakaian yukata (kanan: Jun Yi)
When I first came, it was difficult to communicate in Japanese, but my teachers and classmates were always there to help me. I have become accustomed to life in Japan, and now I am doing research and studying while being surrounded by many good friends. In the dormitory, I have a lot of free time to be spent cooking and watching movies. When I was in the third grade, long-term and short-term international students often gathered and enjoyed eating and talking together. Unfortunately, most of the events were cancelled due to the pandemic, and short-term international students were not able to come to Japan. Even though it was difficult to deal with inconveniences like school closures, my life in Ube Kosen has been fun and fulfilling.

Awal-awalnya, saya tidak dapat berkomunikasi dengan baik dalam bahasa Jepun, tetapi guru-guru dan rakan-rakan sekelas saya sentiasa sudi membantu saya. Saya sudah biasa dengan kehidupan di Jepun, dan kini saya membuat kajian dan belajar sambil dikelilingi kawan-kawan baik saya. Selain itu, di asrama, saya dapat menggunakan masa lapang saya untuk memasak dan menonton filem. Semasa saya di tingkatan tiga, pelajar antarabangsa jangka panjang dan jangka pendek sering berkumpul dan makan sambil berbual-bual. Namun, kebanyakan aktiviti telah dibatalkan disebabkan pandemik, dan pelajar antarabangsa jangka pendek tidak dapat datang ke Jepun. Walaupun terdapat pelbagai kesukaran seperti penutupan sekolah, kehidupan saya di Ube Kosen adalah menyeronokkan dan memuaskan.
Please tell us if you have any memorable things at Ube Kosen (or in Japan).
Sila beritahu kami tentang sebarang acara yang menarik perhatian anda apabila anda datang ke Kolej Teknologi Kebangsaan Ube (atau Jepun).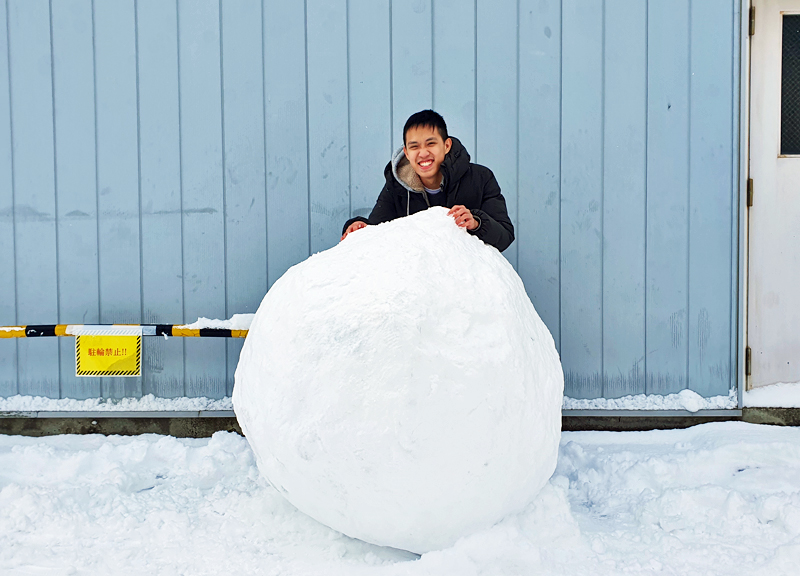 Snowballs made
Bola salji
It snowed heavily in Ube in January 2021. I got to play in the snow with my friends. We rolled the snowball from the road to the parking lot many times in the school to make it bigger. In the end, the snowball was over 1 meter in diameter. It was really heavy and needed four people to move it. Even though it was tiring, I enjoyed making snowballs for the first time very much.

Salji turun dengan lebat di Ube pada Januari 2021. Saya dapat bermain salji dengan rakan-rakan saya. Kami menolak bola salji dalam kawasan sekolah dari jalan ke tempat letak kereta berkali-kali untuk menjadikannya lebih besar. Akhirnya, bola salji dengan diameter lebih 1 meter telah dihasilkan. Bola salji tersebut sangat berat dan memerlukan empat orang untuk menggerakkannya. Walaupun penat, saya seronok membuat bola salji buat kali pertama.
What did you learn at Ube Kosen?
Apakah yang anda pelajari di Kolej Teknologi Kebangsaan Ube?
In mechanical drawing class, I learned how to design parts and do simulations using Solidworks. I also acquired manufacturing skills by making products using machines at the workshop such as lathe, milling machine and 3D printer. In my graduation research, I was able to gain knowledge about autonomous driving technology through research on map creation using a mobile robot equipped with LiDAR (light detection and ranging sensor).
Also, there was a class called Japanese Circumstances, where I had the chance to experience unique Japanese cultures such as calligraphy, flower arrangement, tea ceremony and yukata wearing.
Dalam kelas lukisan mekanikal, saya telah belajar cara mereka bentuk produk dan melakukan simulasi menggunakan Solidworks. Saya juga memperoleh kemahiran pembuatan dengan menghasilkan produk menggunakan mesin-mesin di bengkel seperti mesin pelarik, mesin pengilangan dan pencetak 3D. Dalam projek tamat pengajian saya, saya dapat belajar ilmu tentang teknologi pemanduan autonomi melalui pengajian tentang penghasilan peta menggunakan robot yang dilengkapi dengan LiDAR (sensor jarak laser). Selain itu, dalam kelas hal ehwal Jepun, saya berpeluang merasai budaya Jepun yang unik seperti kaligrafi, gubahan bunga, upacara minum teh dan pemakaian yukata.
Please tell us about your goal in the future.
Apakah matlamat anda untuk masa hadapan?
After graduating from Ube Kosen, I am going to continue my studies at Tokyo Institute of Technology. I want to acquire the knowledge and skills that are necessary for becoming an engineer, and after returning to Malaysia, I would like to contribute to my home country and the world through machine automation and artificial intelligence.
Selepas menamatkan pengajian di Ube Kosen, saya akan menyambung pelajaran di Institut Teknologi Tokyo. Saya ingin memperoleh pengetahuan dan kemahiran yang diperlukan untuk menjadi seorang jurutera, dan selepas kembali ke Malaysia, saya ingin menyumbang kepada negara saya dan dunia melalui teknologi automasi dan AI.
Please give a message to students who consider studying overseas.
Pesanan kepada junior yang terfikir nak belajar di luar negara.
It may seem scary to leave your family to study abroad in another country, but I believe that it will be a very valuable experience for you to expand your horizons, make friends from different countries and learn a new language. You will also spend meaningful time experiencing the lifestyles and traditions that you would not know unless you went to that country. Please challenge yourself!
Walaupun susah untuk meninggalkan ahli keluarga untuk belajar di negara lain, saya percaya bahawa pengalaman itu adalah sangat berharga untuk meluaskan pandangan anda, berkawan dengan orang dari negara yang berbeza dan mempelajari bahasa baru. Anda juga dapat merasai gaya hidup dan adat resam yang tidak akan anda tahu sehingga melawat ke negara itu. Sila mencabar diri anda!