NEWS
2016.02.23
On February 23rd, 2016, Nanyang Polytechnic in Singapore, and Ube Kosen held a signing ceremony and they concluded of an agreement for academic exchange and cooperation. The agreement is focus on an exchange of teachers, an implementation of student exchange programs, and a promotion of joint researches.
At the ceremony, Mr. Tomoyo Mitani, the president of Ube Kosen, and Mr. Edward Ho, the vice-president of Nanyang Polytechnic expressed their goals of their future cooperative relationship. They also expressed their appreciation for the conclusion of the agreement.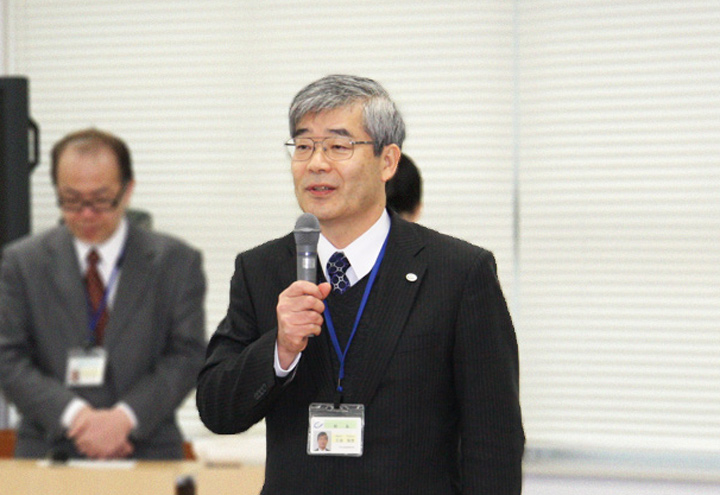 Mr. Mitani saying a few words in the ceremony.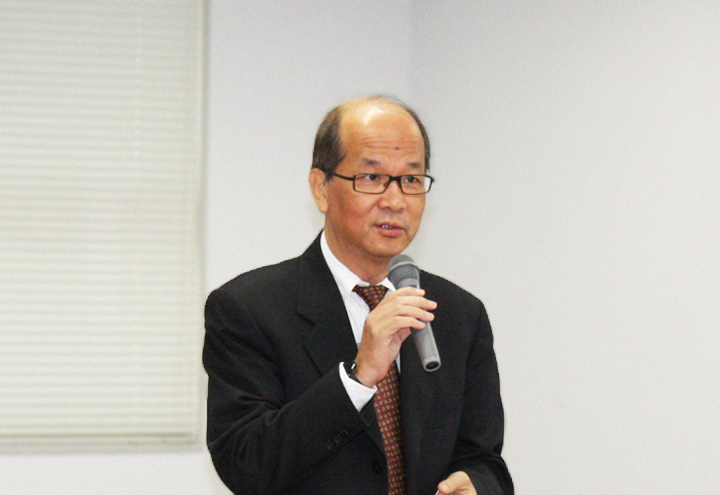 Mr. Edward Ho saying a few words in the ceremony.
After that, they signed the agreement and the agreement for academic exchange, and cooperation was concluded.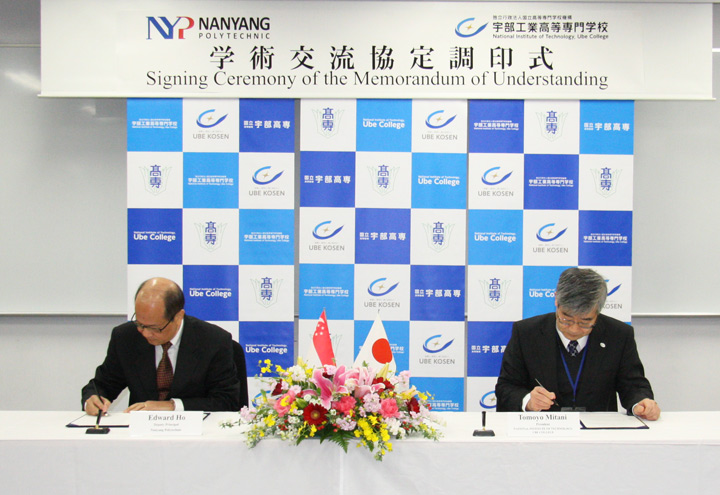 Mr. Mitani and Mr. Edward Ho signing the agreement.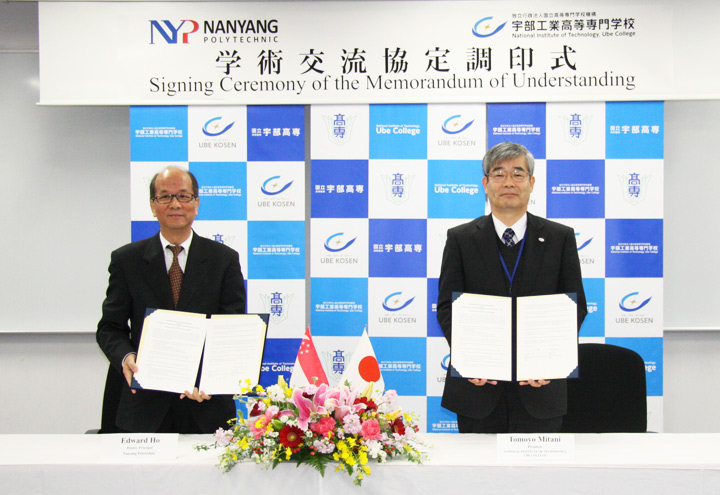 They showed the agreement after they signed.
They also presented a gift each other to pray for active academic exchange between the two schools.
Mr. Edward Ho presented a memorial plaque, and Mr. Mitani presented Ouchi dolls which are traditional craft in Yamaguchi.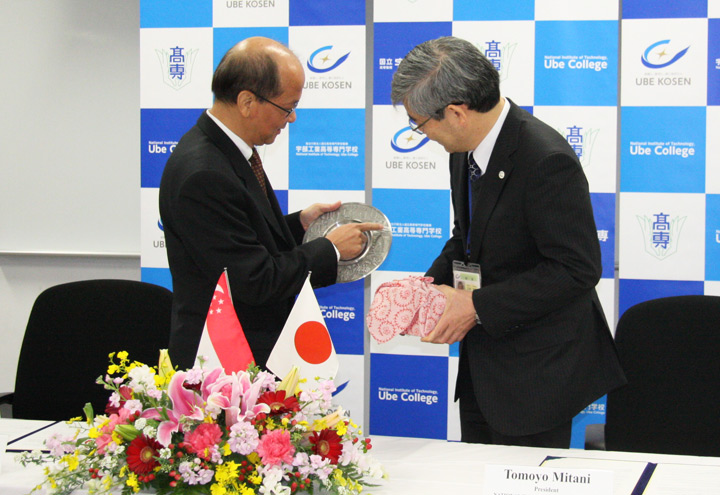 Mr. Eward Ho gave Ube Kosen a memorial plaque.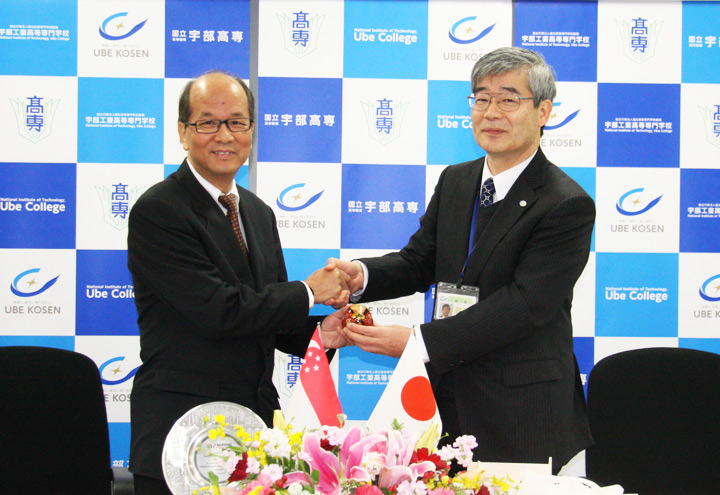 Mr. Mitani gave Nanyang Polytechnic Ouchi dolls.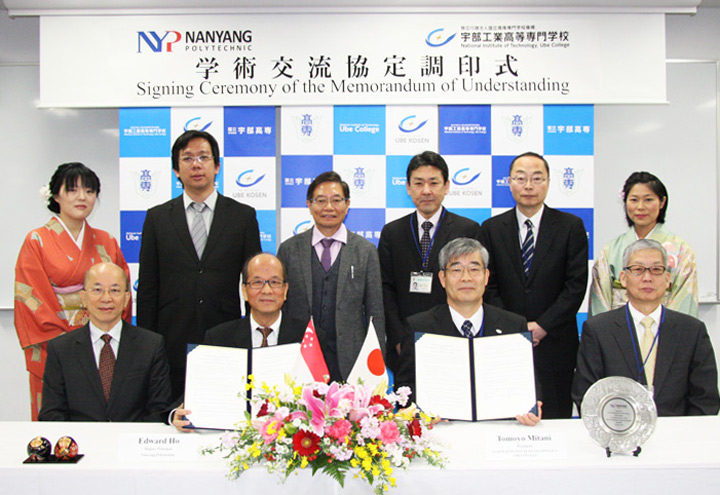 A commemorative photo for the agreement.
After the ceremony, they visited laboratories and observed what researches the teachers and the students are working.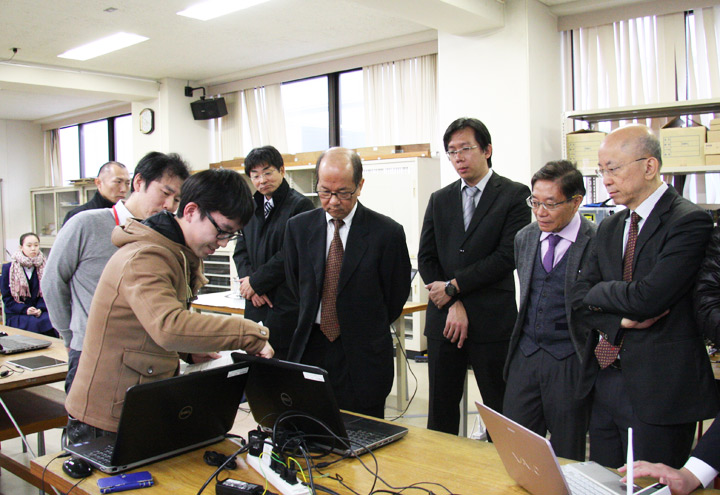 A student explained his research in English.
Exchange between the two schools will be deeper and deeper from now on by concluding this agreement.
The contents of the agreement
Exchange of students
Exchange of teachers and staff
Exchange of information, publications and materials for academic purposes
Cooperation for joint lectures, researches, symposiums and projects
The how and why the academic exchange agreement was concluded and the exchange plans in the future.
In 2014, National Institute of Technology and Nanyang Polytechnic held The 8th International Symposium on Advances in Technology Education (ISATE2014) in Singapore. The teachers of Nanyang Polytechnic and Ube Kosen have started to communicate since then, and four teachers of Ube Kosen went to Nanyang Polytechnic as foreign research workers. Centered on these four teachers, the two schools have developed joint researches and students exchange programs. Then they decided to conclude of an agreement for academic exchange and cooperation in order to build a long- term collaborative relationship.
They will promote personal exchange such as teachers and students exchanges and academic exchange. They will also plan to intensify joint researches between the two schools.
---