NEWS
2015.10.01
Mr. Keita Sueyasu, a first grade student of the Advanced Course of Production Systems Engineering won the Best Student Paper Award at the 2015 International Workshop on Smart Info-Media System in Asia (SISA 2015) held from August 26th to August 28th.
He reported to Pres. Mitani about his winning the award on October 1st.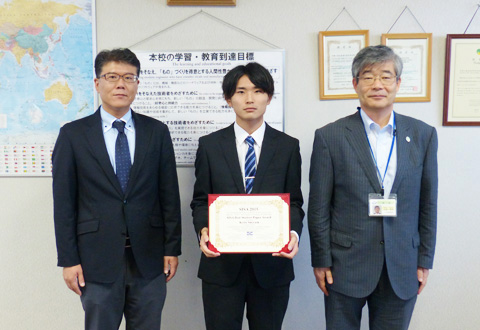 From the left, Associate Prof. Kubota, Mr. Sueyasu, and Pres. Mitani
The workshop is an international conference organized by Smart Info-Media System (SIS) in the Institute of Electronics, Information and Communication Engineers.
Researchers not only from Japan, but also from other countries in Asia get together. They make research presentations and discussions regarding Intelligent Information Systems. This year, the workshop was held at Morisia Hall at Chiba Institute of Technology, Narashino, Japan, and about 100 people participated.
Mr. Sueyasu told his impression of receiving the award as below.
"I am deeply honored to receive the award. I just want to say thank you to Associate Prof. Kubota for leading me and also thank you to the laboratory members for supporting me."
Through this good experience, I will continue my study and do my best to present the research achievement at a conference."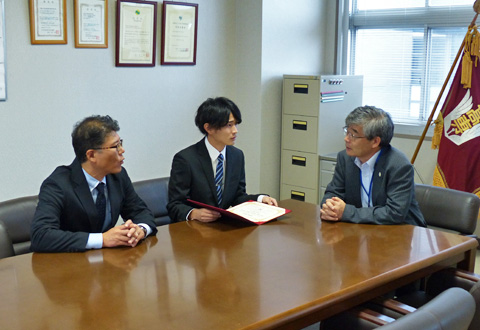 Mr. Sueyasu visited Pres. Mitani to report his winning the award.
Winning subject
A Modified Particle Swarm Optimization Considering Conflated Component of Personal and Global Best Positions
Research content
A particle swarm optimization (PSO) is a search algorithm which is based on social behavior of fish schooling and bird flocking. PSO is one of the methods used to find the best solution of given problems. In this study, we have improved the algorithm in order to enhance the search performance.
Specifically, we have proposed a new PSO considering a conflated component, which is generated from the personal and the global best positions of the particles in the searching space.
And we have verified the validity.
---