NEWS
2019.11.05
Five advanced course students (July 4th, 2019 – September 6th, 2019) and four regular course students, all of them are 3rd year, (August 11th, 2019 – September 6th, 2019) had international training at Taiwan National United University (Miaoli city) and an internship in companies in Taipei.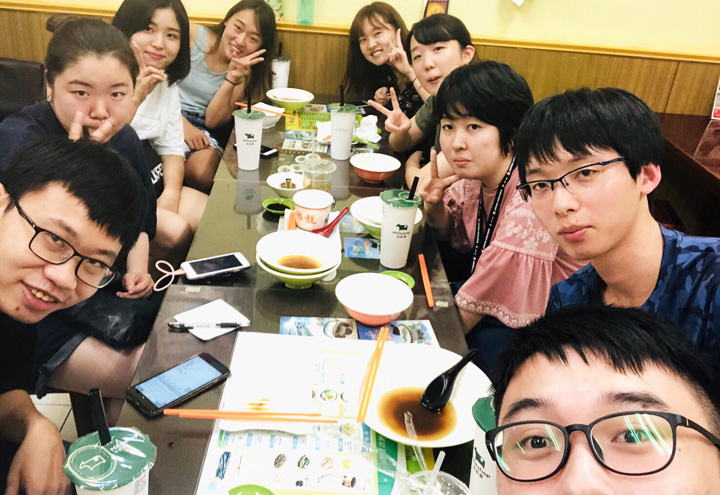 A meal with National United University students and other Kosen students.
Two student from Kisarazu Kosen and two students from Niihama Kosen also joined this training.
Advanced course students and regular course students made a poster presentation and/ or an oral presentation of their achievement in English at the third Taiwan-Japan International Conference which was held at National United University on September 5th.
| | |
| --- | --- |
| Poster presentation at the conference venue | Ms. Naho Ando, 1st year of the Advanced Course of Production Systems Engineering, giving an oral presentation at the conference |
During the training, regular course students joined Chinese class on top of their respective research in the office. Also, they had short trips to Taipei and Taichung with research office students and students from international volunteer club of National United University on weekends. Seems like they had great time during the training.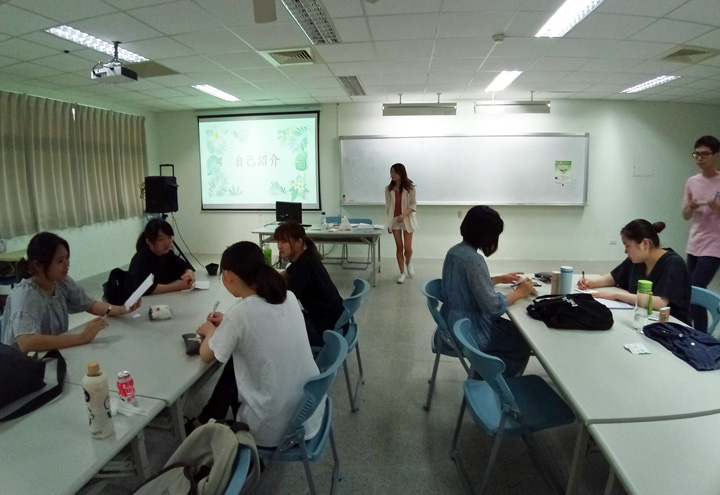 Chinese class at National United University Chinese Center
With other Kosen students who joined the conference after the banquet
Message from students
Mr. Tom Suenaga (1st year of the Advanced Course of Management Information Engineering)
I had training at Taiwan National United University and an internship at HOPE English Co., Ltd.in Taipei. During the training at National United University, I did "Empirical research on research and development cost reduction as means of profit adjustments during a period of Japanese pharmaceutical manufacturer" with my supervisor's guidance.
I had a very meaningful time as I gained valuable knowledge and advice which I would not have had in Japan. In the end, I made a presentation on my achievement in English at the third Taiwan-Japan International Conference. I realized how difficult to tell other people about my specialized field and it became a big goal for me in the future.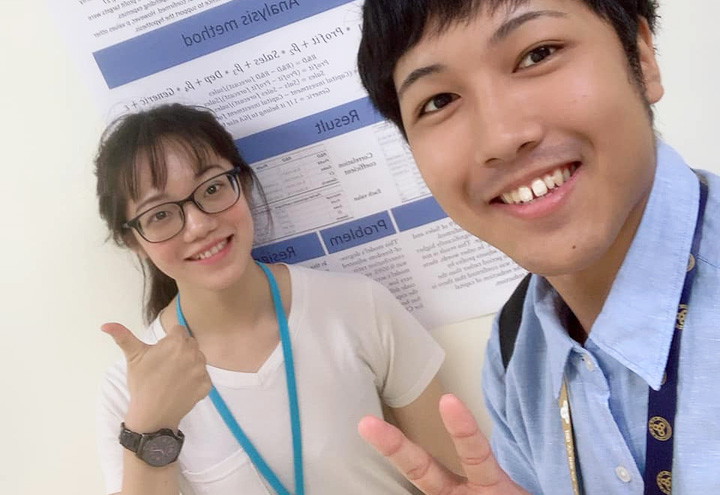 Poster presentation at the third Taiwan-Japan International Conference
I did marketing of E-Learning system targeted Japanese people during the internship at HOPE English Co., Ltd. I researched the market environment and competitors' strategies and suggested some ideas of promotions in the end.I participated in the actual business so that I learned what the marketing was and the office atmosphere in overseas was like. These experiences gave me a big influence on my life selection in the future. Through English presentations I did every weekend, I gained tips to improve my English and presentation skills and it was such a valuable experience for my future.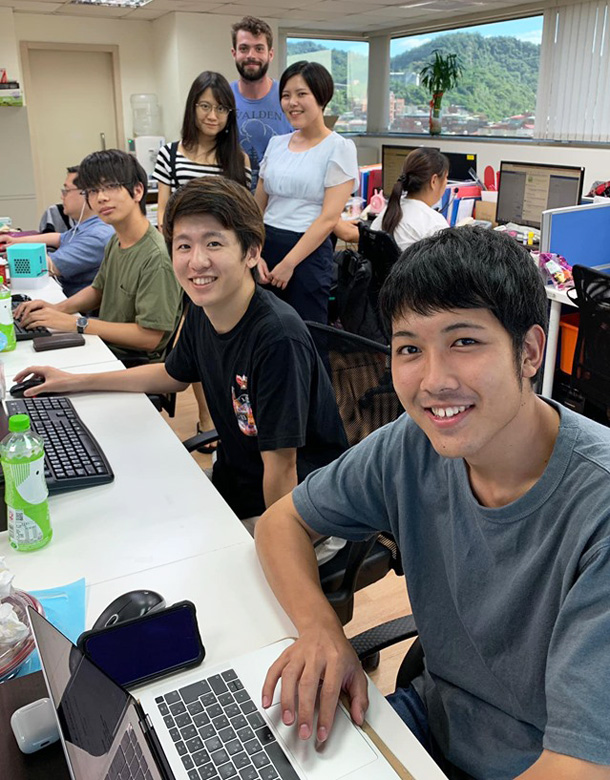 Internship at HOPE English Co., LTD. In Taipei
I also learned something else big different from these two training. It was the importance of a self-motivated action. I used to not complete something I decided to do by finding excuses or say no to some invitations. But by taking action myself in Taiwan for the two months, I played live music with the local Japanese in some stores or on the street. Also I had opportunities to listen to valuable stories from business people and entrepreneurs. From now on, I would like to contribute to expanding Ube Kosen international activities and to improve my own abilities by using many things I learned from these two months.
Ms. Kanae Fukano (3rd year of the Department of Chemical and Biological Engineering)
I had Chinese language training and did a research in a research office at National United University. I learned some words during the Chinese language training. I had a hard time pronouncing them because Chinese had a lot of pronunciations which Japanese did not have. But I started to be able to pronounce them slowly after having some games during the class and started to understand Chinese language.
In my research, I applied a protective coating synthesized by using a vacuum plasma method. Plasma is a state in which the air is ionized when energy is given by electrical discharge and the like in a vacuum. It was my first time to operate the coating machine, and furthermore, it was an unfamiliar environment and nobody understood Japanese, so it made me feel isolated. But I managed to achieve my research with full support from the research office students.
I went out for meals with Taiwanese students and went on short trips with Japanese students after school or weekends. I wanted to learn Taiwan more as I met Taiwanese people or learned about their history.
It was a good experience to communicate with other Kosen students at the achievement presentation. I would like to communicate actively with international students by taking advantage of my international training experience in the future.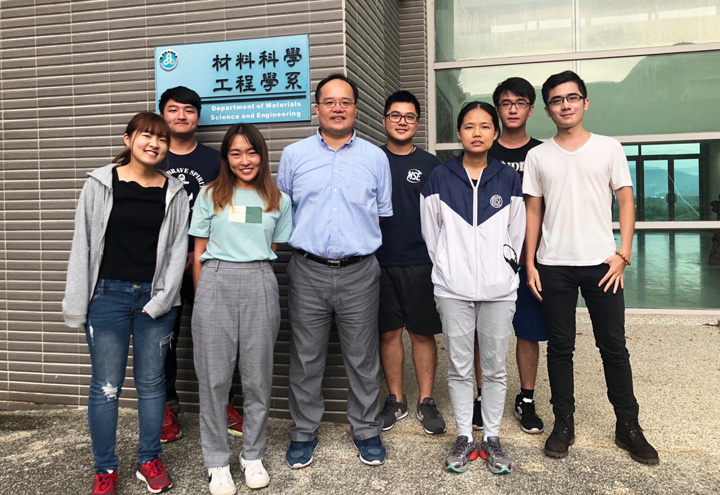 With Prof. Fang-Bin Wu and his students from the Department of Materials Science and Engineering
---