NEWS
2019.11.05
The third Taiwan-Japan International Conference was held at Taiwan National United University (Miaoli) on Thursday, September 5th, 2019. Our faculties and students participated and presented their studies.
| | |
| --- | --- |
| President of National United University Tung-Hu Tsai giving an opening greeting at the conference | During the opening ceremony |
The conference was a big one as more than 170 people participated. It was 79 participants combining faculties and students from thirteen different Kosen, which mainly from the forth block (Chugoku-Sikoku district), 86 participants mainly from the organizer, National United University in Taiwan, 3 participants from Yeungjin University in Korea which signed MOU with us, and participants from Germany and France.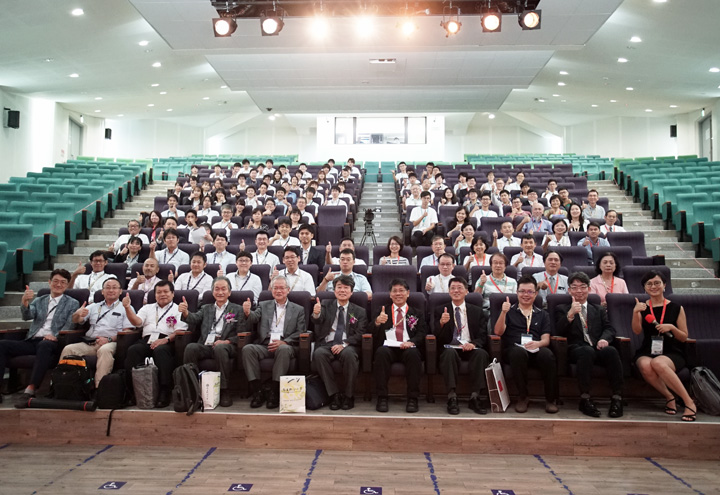 Group picture at the conference
The conference was divided into the thirteen sessions and participants presented their respective studies. Language, Language Education sessions were added this time on top of the previous two conference sessions which were Mechanical, Electrical/Electronic, Control Information, Civil/Architectural, Chemical/ Environment, and Business Management. Also, it was reported about English, Chinese Education and classes provided to local communities.
| | |
| --- | --- |
| At the conference | Prof. Kenji Sugimoto of the Department of Chemical and Biological Engineering proceeded the session (right). |
| | |
| --- | --- |
| Poster presentation venue #1 | Poster presentation venue #2 |
President of Sasebo Kosen, Kenji Higashida who is also a director of National Institute of Technology and head of the international exchange center made a keynote speech at the conference.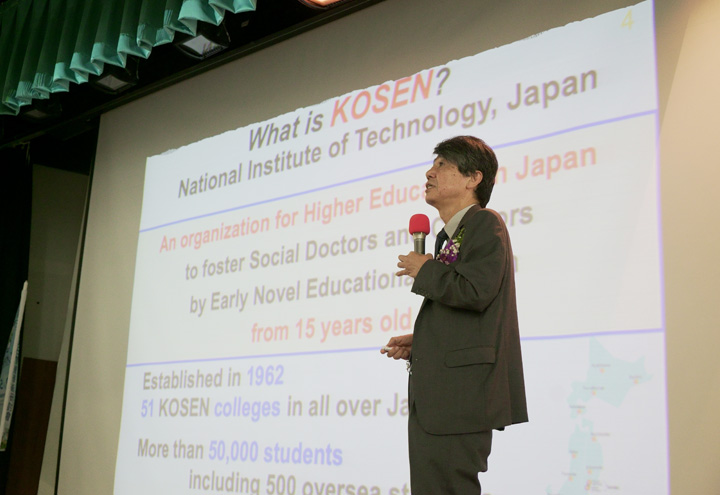 Directer of National Institute of Technology, Kenji Higashida giving a keynote speech
Presentation of each session was very active all day with many questions and answers.
| | |
| --- | --- |
| Picture taken after session #1 | Picture taken after session #2 |
A Ube Kosen student received a training completion certificate from the President Tung-Hu Tsai at banquet.
The fourth conference will be held in Takamatsu city, Kagawa prefecture which is organized by Anan Kosen and Kagawa Kosen in July 2020.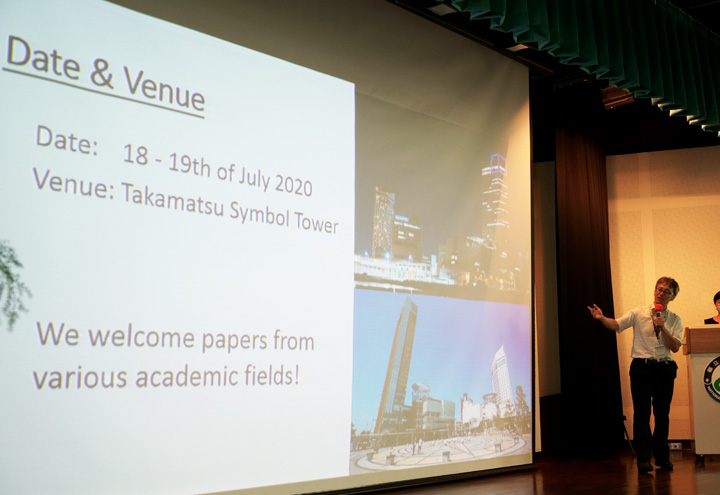 Associate Prof. Tomoya Konishi from Anan Kosen announcing the fourth conference (Takamatsu) at the closing ceremony
Message from conference participants
Associate Prof. Iori Nakaoka (Department of Business Administration)
Taiwan-Japan conference which many Kosen students and faculties participated went very successful. I was in charge of two sessions and made one presentation. I communicated with Taiwanese faculties about my study through the sessions including the questions and answers.
A good part way more than my achievement was that our advanced course students made a good oral presentation session in English as a researcher. I believe they improved their skills through our daily curriculum and training at National United University and the like. I also believe questions the students received would be the not only indication of their future study but provide motivations as well. In addition, it was also a good experience for both regular course students and advanced course students that they made poster presentation sessions of their study and training achievement at National United University in English.
The next conference will be held in Takamatsu, Kagawa (Anan Kosen in charge, Kagawa Kosen in charge of venues) and I expect that it will be successful as well for more international exchanges and communication between Kosen.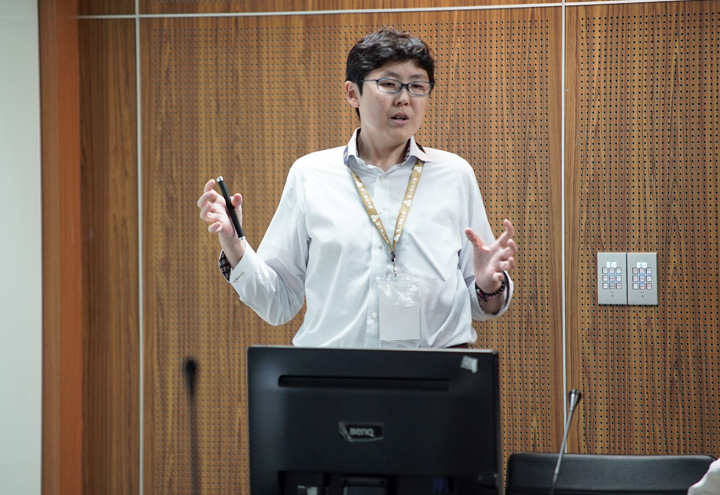 Associate Prof. Nakaoka was in charge of Business oral presentation session and also made his own presentation.
Ms. Hikaru Takashima (2nd year of the Advance Course of Chemical and Biological Engineering)
I made a presentation of my special study in English first time at Materials Science and Chemical Engineering session at the third Taiwan-Japan International conference. I was worried because everything was done in English including questions and answers, but I managed to make it and it gave me confident.
We had a welcome party the night before and I enjoyed meals and conversations with teachers and students from various countries like Taiwan and Korea. I realized that I needed to improve my English skills by joining this conference. I would like to continue learning English in order to use it better.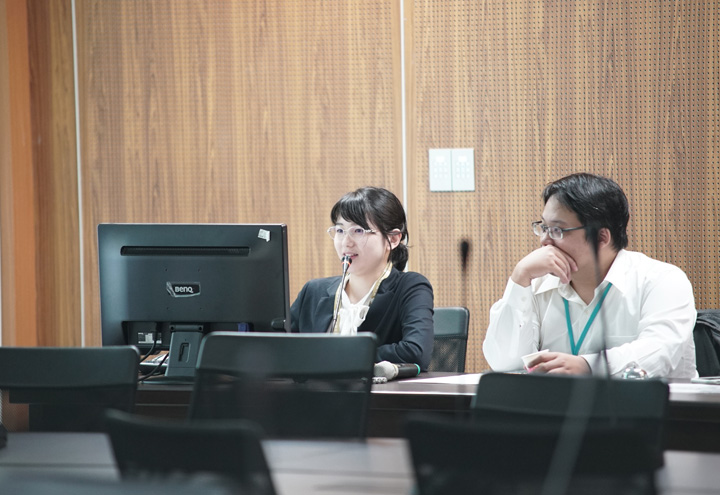 Ms. Takashima, 2nd year of the advanced course, making oral presentation at Materials Science and Chemical Engineering session (left)
---