NEWS
2019.11.05
Our students who joined Chinese and Chinese culture training made accomplishment presentations at Taiwan Wenzao Ursuline University of Languages which we signed MOU with on Tuesday, September 3rd, 2019.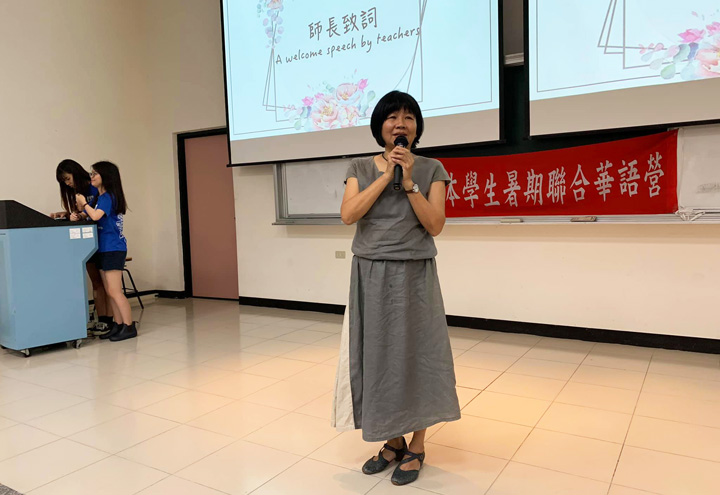 Prof. Wang Ji Xiang of the Department of Applied Chinese giving a greeting
The training was done for two weeks starting from August 22nd at the Department of Applied Chinese, Wenzao Ursuline University of Languages. Students had Chinese training in the morning and afternoon. They worked on their assignment which students had chosen prior to the training with students tutors support from the Department of Applied Chinese from 3 P.M.
| | |
| --- | --- |
| Chinese class #1 | Chinese class #2 |
| | |
| --- | --- |
| Chinese culture class | Chinese class |
| | |
| --- | --- |
| Working on self-assignment | Meal at a restaurant which tutors recommended |
Our nine students (seven students from the 3rd year, two students from the 1st year), four students from Niihama Kosen, the same district (fourth block) with Ube Kosen, and six students from University of Kochi joined the training.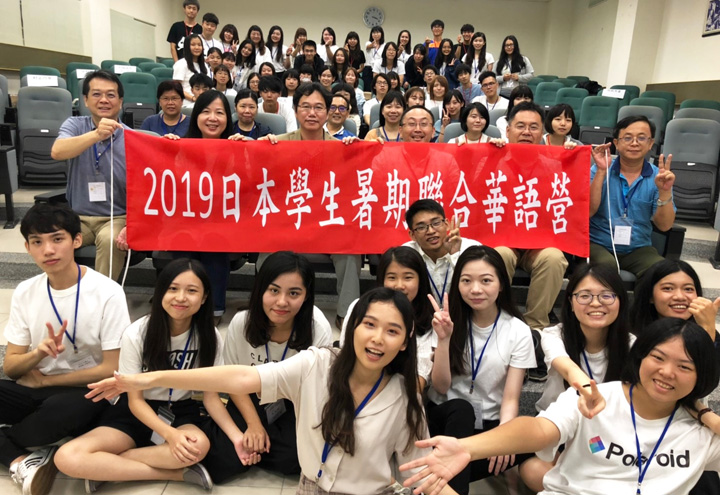 Picture at the welcome ceremony
The surveys students chose were Taiwanese traffic situation, poplar apps in Taiwan, Taiwanese pineapple cakes and the like. They reported the survey results in English at the accomplishment presentation. It was a short period of two weeks, but we got familiar with tutors and students who acted as teachers very well.
| | |
| --- | --- |
| Picture after the accomplishment presentation | Picture after the accomplishment presentation |
Message from students
Ms. Saya Tanaka (3rd year of the Department of Business Administration)
It was such intensive training because I had many experiences I wouldn't have had in Japan in the two weeks of international training. I was very worried to live overseas before the training. But people in Taiwan were very nice and communicated with me very well so that I stopped worrying quickly and spent the two weeks comfortably.
In Chinese class, the teacher taught me patiently and gently although it was my first time to learn Chinese. Also, Japanese students from other schools were nice and friendly so that I managed to speak Chinese without feeling shy, and that way I gained the knowledge naturally for what I studied. After school, student tutors took me to Taiwanese tourist spots, yummy restaurants, and helped me my assignment. Also, when I had a hard time understanding during the Chinese class, they taught me patiently in private. Two weeks went very quickly as I enjoyed every day with a lot of laughing like tasting various Taiwanese food, playing sports or games and the like. I learned how important to make communications, how nice Taiwanese people were, and how interesting Chinese was by joining this international training. What I learned would be useful in the future. Two weeks was such a short period, but I was very happy that I joined the international training so that I made lifetime friends and memories. I would like to participate passionately in the international exchange activities at Ube Kosen in the future.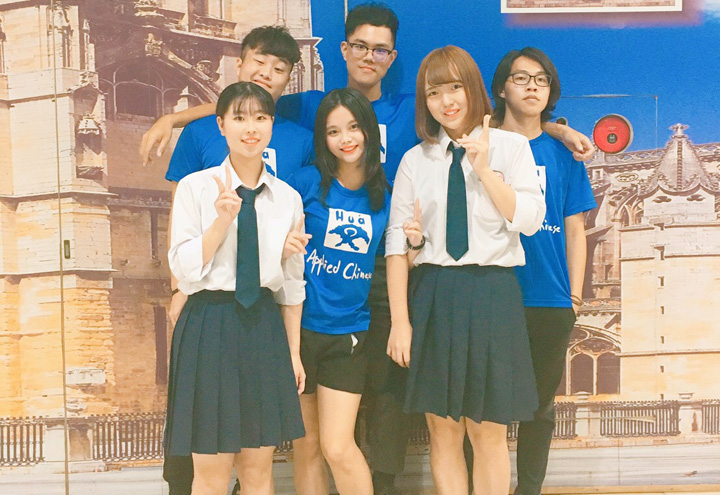 With tutors after the accomplishment presentation
Mr. Masaki Akao (3rd year of the Department of mechanical Engineering)
I gained not only language knowledge, but many other things at this training. I found Chinese grammar was easy but had a hard time to pronounce it. But I got confident when I managed to order a bubble tea in Chinese after school.
I worked hard on self-assignment with some Japanese students together by exchanging opinions with our tutors to make our assignments better. I liked this time the most. It was difficult to communicate with my tutor first because he did not understand Japanese at all. So I envied other students who were able to communicate with their tutors in Japanese. But my English was improved instead. Once my tutor understood my English, I was able to make a joke or explain the reasons when requesting something, that way, I managed to expand the topic of the conversation. I would like to help international students in Japan because my tutor was nice and helped me at the training.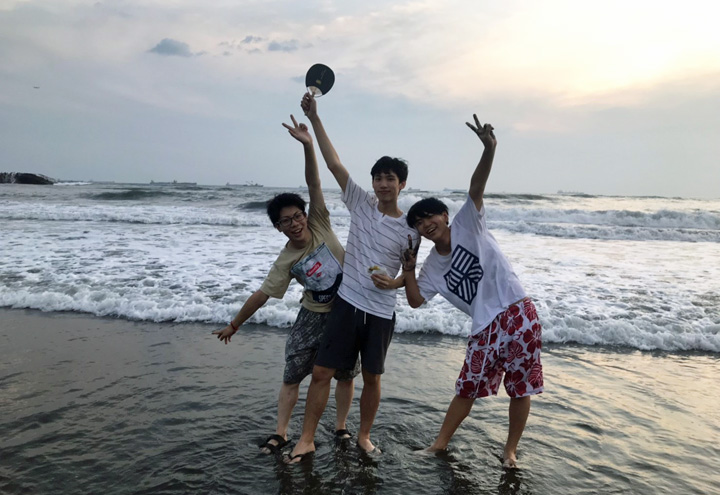 With a tutor student at ChiJin, Kaohsiung
Mr. Haruki Ono (1st year of the Department of Intelligent System Engineering)
I had such fulfilling days that I would not be able to have had in Japan in the two weeks of training. And I gained a Taiwanese friend. I still stay in touch with him. It was not easy living in Taiwan, but I had a good time with the support from my senior students, other school students, and my tutor. It was very easy to understand the Chinese class at Wenzao Ursuline University of Languages because the teaching materials were very good. The teacher in the class spoke in Japanese so that I felt it was easy for me to understand the class. I enjoyed learning Chinese by playing games using Chinese. I managed to complete my self-assignment with my tutor's help. My assignment was about publications, and I had fun visiting many book stores in Taiwan because I found many things. I realized how important the communication was at this training. It was really good that I participated in the training because the experiences I had this time would be useful in my future.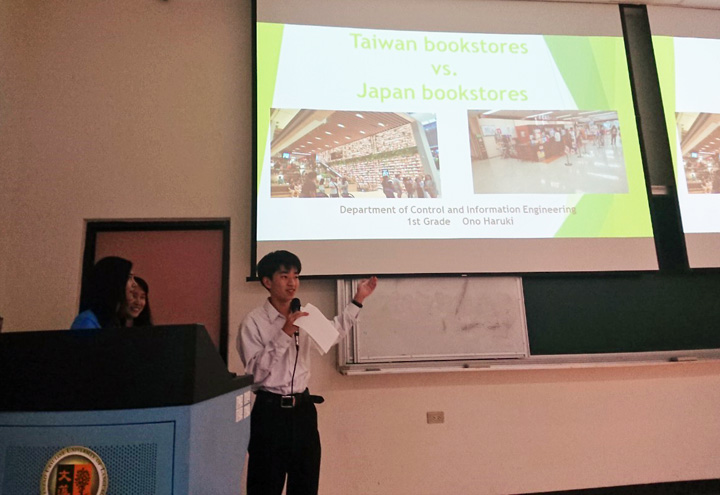 Mr. Ono at the accomplishment presentation
---