NEWS
2020.01.20
We held a Christmas party with Japanese students and international students together on Sunday, December 15.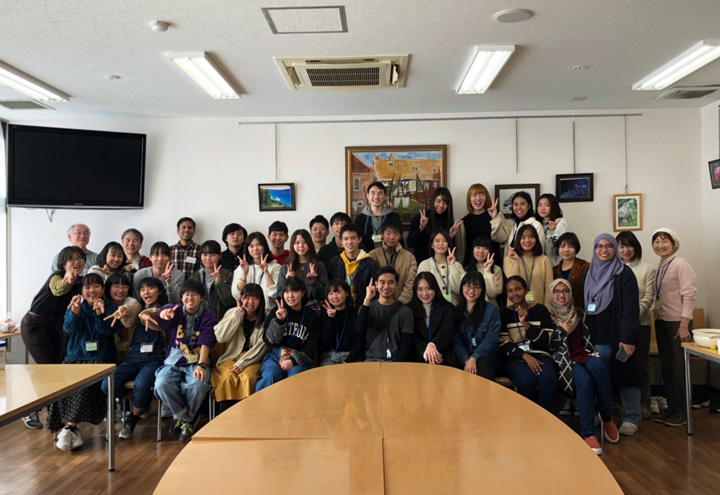 Group picture
The party was held at Pelican cafeteria, and participants were two students currently having training at Ube Kosen from Taiwan National United University and the MARA University of Technology, Kosen long-term international students, international students from Faculty of Engineering of Yamaguchi University and Graduate School, and students who were involved actively in the international activities from Ube Kosen, Ube High-school, Keishin High-school, Baiko Gakuin. We had Takoyaki and hot pots which Japanese students staff prepared, and international students prepared their national dishes this time. We prepared fish meats and processed chickens in Halal for Muslim students so that they could eat too. It was a good opportunity to learn Halal meals with this exchange activity.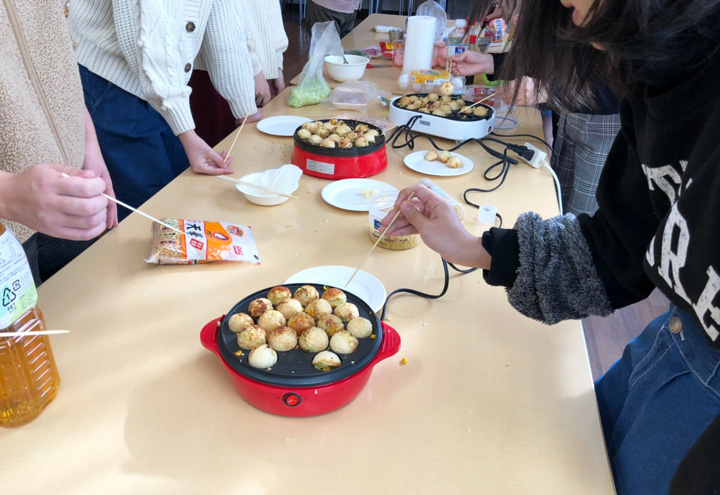 Takoyaki prepared by Japanese students
| | |
| --- | --- |
| Potluck dish (Vietnam) | Potluck dish (Indonesia) |
NPO group "ONE FOR ALL (OFA)", supports for Ube City's internationalization and tries to reuse old houses, helped us so much this time again.
Message from student
Sakura Kumagai (4th year of the Department of Business Administration)
Ube Kosen SA (Student Ambassador), students from Ube High-school, Keishin High-school, Baiko Gakuin and members of NPO group "ONE FOR ALL" which has been doing the international exchange activities with Ube Kosen got to know each other with international students at Yamaguchi University and Graduate School, and Ube Kosen by having meals together under the name of HAPPY HOLIDAYS PARTY.
International students were from Djibouti, India, Indonesia, Vietnam, China, Bangladesh, Malaysia and so on. We had not only Japanese dishes, but other country's dishes as well, and some international students performed their traditional dance on the day. At the end of the party, we did a bingo game, exchanged gifts that all students brought in, and took a group picture for the memory. It would be nice to plan to have more opportunities to meet international students from various countries at Ube Kosen.
---