NEWS
2020.04.01
Ms. Hui-Chu Tsai and Ms. Yuan-Yuan Cheng from the Department of Japanese, Taiwan Wenzao Ursuline University of Languages (Kaohsiung City) who did the internship at Ube Kosen, Ube City Hall, and a company in Yamaguchi Prefecture reported their three weeks training on Friday, January 31, 2020.
| | |
| --- | --- |
| Students of the English Conversation Club hosted the presentation. | Ms. Hui-Chu Tsai presenting her achievement |
| | |
| --- | --- |
| Ms. Yuan-Yuan Cheng presenting her achievement | Ms. Hui-Chu Tsai receiving the certificate from President Yamakawa |
They came to Ube Kosen to improve their Japanese skills and promote international exchange activities on January 13. During the training at Ube Kosen, they participated in classes such as Japanese, Social Studies, and Intercultural Understanding with Ube Kosen students. They performed discussions and presentations in Japanese as well. Also, they translated the rules of Hakucho dormitory where they stayed for three weeks into Chinese.
During the training at the Tourism and Global Promotion Department in Ube City Hall, they visited some facilities such as a nursing home, a school lunch providing center, also they learned a current situation in a local community of Japan and how municipalities work on the issues.
At Asahi Seika, long-established confectionery company in Yamaguchi Prefecture (Head office is in Yanai City.), Mr. TSUBONO Tsuneyuki , President, explained the history of the company to them in the head office, and the students had training for the sales and production at Ube Farm, Shuklevain in Ube City. Also, they had the training to make the best business plan if they would sell the Asahi confectionery goods in Taiwan.
Teachers and students who interacted with them for three weeks gathered and listened to the presentation that was done in Japanese which had improved if you compared to when they came to Japan. After the presentation, a farewell party was held at the Pelican cafeteria and people seemed to be sad to say goodbye to the two students.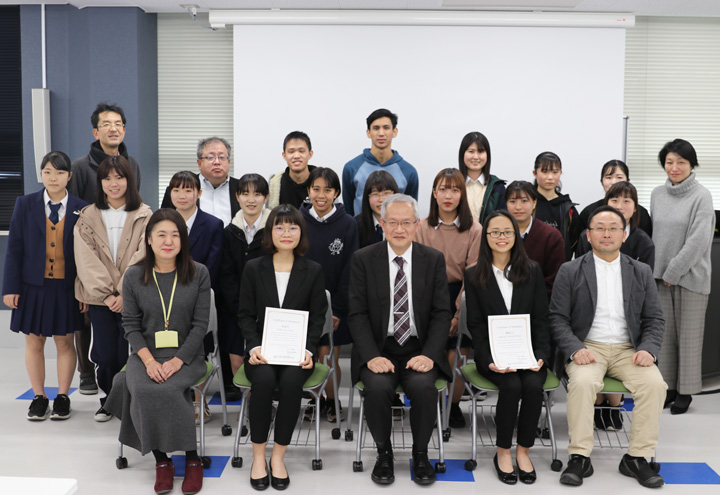 Picture taken for memory after the presentation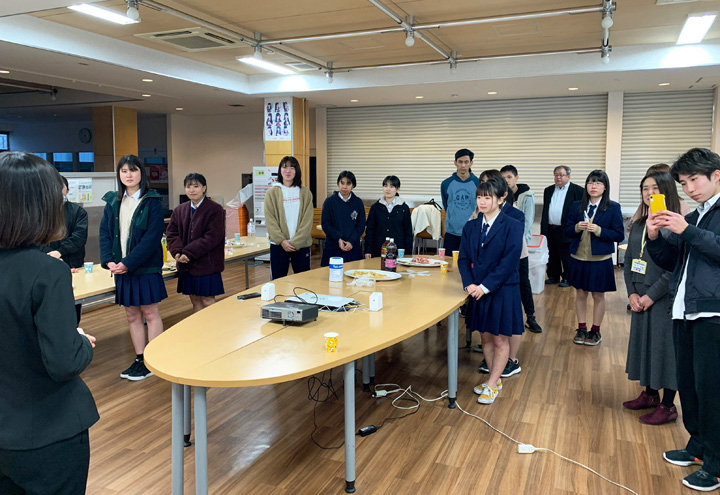 At the farewell party
Messages from the internship students
Ms. Hui-Chu Tsai
The three weeks had gone quickly, but every day was fulfilled in Ube. The reason why I chose Ube Kosen for the internship was that I had training not only at schools but companies as I wanted to become a Japanese teacher and a translator.
I managed to interact with Japanese people in various ways by using Japanese as much as possible when I visited companies or experienced office work at different locations every week. I also challenged business planning and customer services that I never did before.
I had learned Japanese people well such as Kosen student's and adult's lifestyles through various experiences in addition to improving my language skills. I was encouraged by people at Ube Kosen, Ube City Hall, and Asahi Seika to challenge something new in three weeks. I will not forget what I was impressed here, also, I will remember and think of what I learned for the three weeks after I go back to Taiwan so that I would be able to create something new.
Ms. Yuan-Yuan Cheng
I was very worried and nervous before I came to Ube Kosen, but once I came here I found out people were very kind and listened to me well even though my Japanese was not good so that I enjoyed every day and did not need to worry anything.
I experienced various things such as Japanese offices through the internship at Ube Kosen, Ube City Hall, and Asahi Seika, also I learned the history and cultures of Ube City. I was happy that I met different age groups of people from students to seniors during the internship. The three weeks were too short as I had a lot of things I wanted to do, so I am a little sad. But I would never forget the memories I had with the people I met here. I would like to do my best that I would be able to meet them again.
---