NEWS
2020.04.01
We provided faculties training for Vietnam College of Industry (COIT) as a part of Kosen International Project for Vietnam for the period of Monday, February 17/ 2020 to Friday, February 21/ 2020.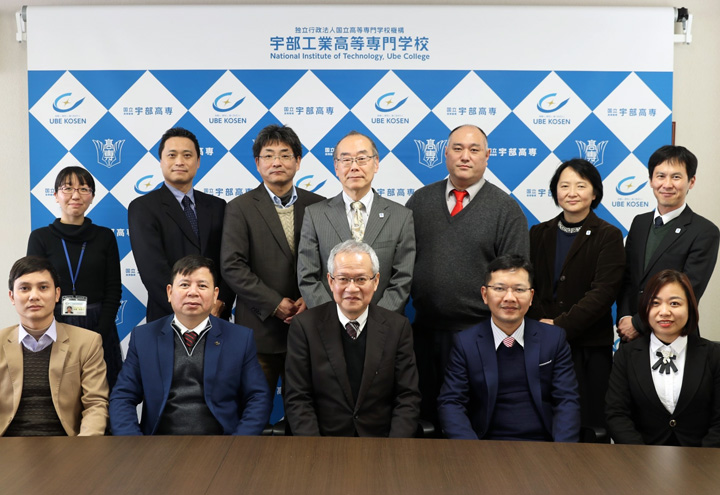 Training participants
COIT has a plan to open a five-years course named "Kosen Model Program (Vietnam)" which is specialized in industrial electronics in September 2020. The course is made combining a vocational school (3 years) that students attend after graduating from a junior high school and a college (2 years). Ube Kosen and Hakodate Kosen had supported to design the program and improve classes since last year. It would be the second college in Vietnam to start "Kosen Model Program (Vietnam)" following Hue Industrial College which opened the program last year.
Participants for the training were the following: Mr. Thanh, Mr. Tuan, Mr. Hung, Ms. Huong who is in charge of International Exchange, Prof. Moriya from Hakodate Kosen. They tried to have a better understanding of the current system of the Kosen education through visiting actual facilities and classes to aim the opening of the five-years program and they had improved skills on the method of active learning which was done by experiencing a group study such as workshops using a microcomputer (Arduino) and brainstorming as students.
| | |
| --- | --- |
| Brainstorming on the educational improvement for COIT | Experiencing a workshop for the first year of students at the Department of Electrical Engineering |
Furthermore, we repeatedly exchanged opinions actively on student's images to be fostered, contents of the five-years program, a method of collaborating with companies, a readiness for the staff and faculties, etc., and then we had completed the training for good.
| | |
| --- | --- |
| Reporting the current situation of COIT at the faculties training at Ube Kosen | Exchanging opinions on the five-years program and the review of the training |
---