NEWS
2020.10.22
On Friday, August 28, a web meeting was held for Kosen Model Program for Vietnam participated by Kosen faculties and staff who support implementing the program.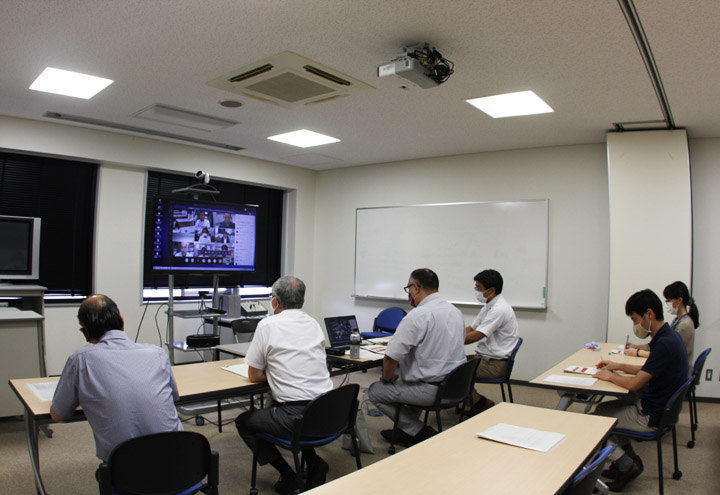 During the meeting
Professor Hiroaki Tsubone from the Department of Creative Engineering of Ariake Kosen, which is a supporting school for the project, reported on preparations of a new course as a Kosen model school in the Department of Mechatronics of Cao Thang Technical College (CTTC).

Also, Professor Kenji Moriya from the Department of Production Systems Engineering of Hakodate Kosen and Professor Shinya Senba from Ube Kosen shared the syllabus of the newly open Department of Industrial Electronics of College of Industry (COIT), and student application numbers for the course, etc.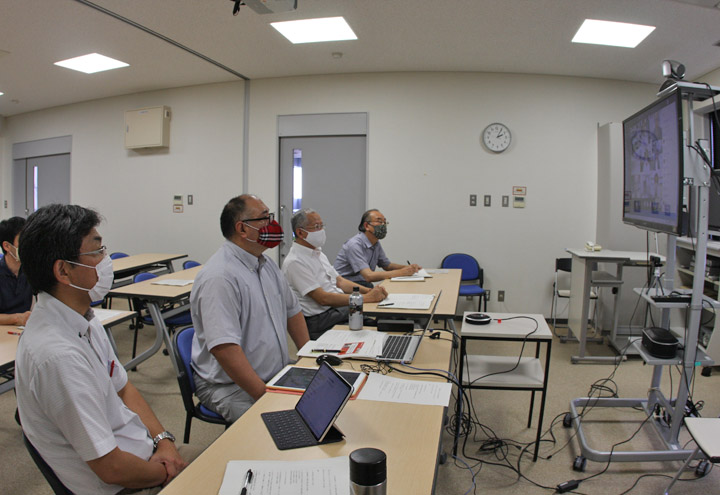 Prof. Sinya Senba shares information with Professor Kenji Moriya from the Department of Production Systems Engineering of Hakodate Kosen
Furthermore, Professor Jun Sato from the Department of Electrical and Electronic Engineering of Tsuruoka Kosen reported activities at Hue Industrial College(Hue-IC) in his second year.
Due to the COVID 19, none of Kosen faculties were able to visit Vietnam, so that they could not advise any improvement methods for classes and practical training at the model school since March this year. But they managed to prepare for opening the course by using Web meetings and the like.
Also, Mr. Eiji Hayashida, head of the Kosen Vietnam Liaison Office in Hanoi, reported that Kosen education structure was reported at "National faculties and staff conference (in Northern district on June 20, in Southern district on June 23) held by the Vietnam Ministry of Labour, War Invalids and Social Affairs(MOLISA)" in June.
Mr. Hiroshi Omura, deputy of secretary general of Kosen head office, explained the current situation of the Kosen International Project over three countries which are Thai, Mongolia, and Vietnam.
Originally, Japan International Cooperation Agency (JICA) had a project to support education for the Industrial University of Ho Chi Minh City, Thanh-hoa school under the Ministry of Industry and Trade (MOIT) in 2013, and faculties from Akita Kosen and Ube Kosen were sent to the school. This lead to our current project.
We would continuously cooperate all together to foster skilled engineers for truly advanced industrialization in Vietnam.
---