NEWS
2021.07.27
Students of the Department of Business Administration did "Online Cross-Cultural Exchange" with students of Yeungjin University (Daegu City) of Korea, that signed an academic exchange agreement, from May 2021 to the end of June 2021.
The Yeungjin University has a class that is aimed to be employed by Japanese companies under the Department of IT and the Department of Tourism. Many students are employed by Japanese companies every year. The university also conducts mutual exchanges with Ube Kosen every year and many students have participated in specialized education exchange and a language exchange.
We could not send our students for studying to Korea this summer same as last year due to COVID 19 pandemic, so we conducted an online cross-cultural exchange by Zoom this year as well. Twenty-six of the students from the Department of Business Administration (1st year to 4th year) of Ube Kosen and thirty-six students from the Department of IT and the Department of Tourism of Yeungjin University joined it. They had conversations on a topic that they were interested in by separating into groups of four or five people once a week.
Japanese students had an opportunity to learn Korean, and Korean students learned practical Japanese such as wording that young people use, wording for office use after they are hired by Japanese company. Both sides of students obtained a lot through the activity.
We will continue to have such online activities even after we start to visit each other.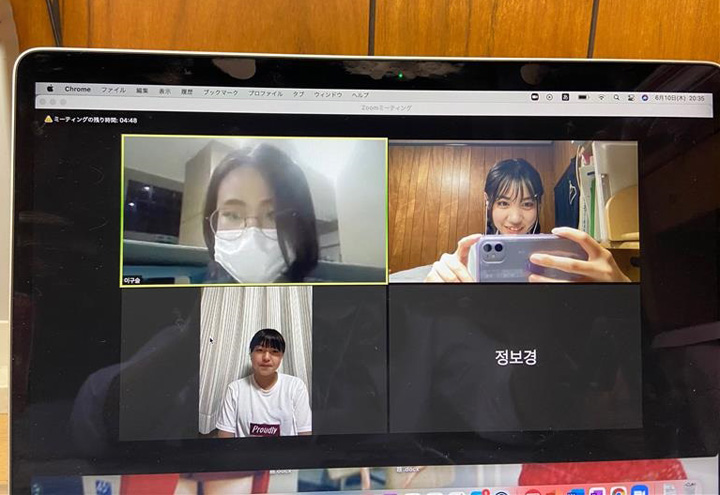 Online Cross-Cultural Exchange
参加した学生のコメント
NISHIYONE Rika(3rd year of the Department of Business Administration)
I joined this international exchange activity to take advantage that we could not meet each other directly because of COVID 19.
The activity was to talk about a topic such as the introduction of own culture, recommended food, interesting TV shows in Japanese using Zoom once a week. First, we were nervous so that our conversation did not go well, but we managed to participate in the activity as if we do a video chat with friends over time. I had an impression of international exchange that was communicated in English and to improve the language skills. But as we talked about various topics in Japanese, I started to notice the cultural differences between Japan and Korea, and it led us to understand different cultures.
I was involved in this activity as a sub-leader. I learned a method of planning and management, etc. from senior students. I would like to involve more in international exchange by using the experience I obtained.
---