NEWS
2022.01.04
We conducted COIL type of training for computer science (online international training) with Yeungjin University (Daegu City), for which we signed an academic exchange agreement, in Korea from Monday, August 23, 2021 to Friday, August 27, 2021. 4 students participated in the training. Professor Youngchul Jung who is specialized in computerized information at Yeungjin University provided the training and it was about "Web application development by PHP". Our students learned programming with the support of 3 students of Yeungjin University who spoke Japanese.
What is COIL (Collaborative Online International Learning)?
It is online learning by using the Information and Communication Technology (ICT) tool, which is our students collaborate virtually with international students who belong to our partner universities, share a problem, and solve it together. It is a new educational training method that gets attention currently due to COVID-19 expansion.
We had conducted international training including specialized training such as languages, internships during school holidays with schools we made academic exchange agreements including Yeungjin University until 2 years ago. We have continued to have cross-cultural communications and language training online due to COVID-19 expansion since last year. But we did not conduct the online international training, so this training was the first step to lead the expansion of our international communication activities in the future.
We express our appreciation to Professor Youngchul Jung and 3 students of Yeungjin University as well as other participants who contributed to the online international training that is totally different from the past training. We have a plan to be well prepared for COIL type international training to respond to our student's various needs.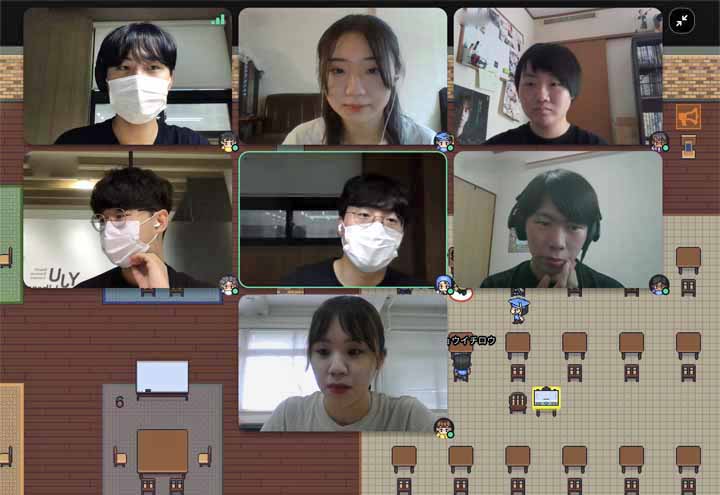 During the training
Students Comments
NAGATOMI Shoichiro(4-year of the Department of Intelligent System Engineering)
I learned web programming with Korean students of Yeungjin University in the specialized training. It was a valuable experience for me that I learned not only web programming but Korean culture and each other in such a short time of 5 days.
It was my first time learning web programming in this training. So I did not understand some during the lecture, but Korean students supported me friendly along with my pace so that I cleared my questions each time and managed to proceed with tasks.
I think I developed leadership and positiveness through the program. Especially, I remember that Korean student's attitude toward learning and obtaining skills strictly. It was a great experience for my own growth. I recommend joining the program to other students who are wondering to participate because the experience will be beneficial for you in the future.
Lastly, I really appreciate to teachers and students of Yeungjin University as well as Ube Kosen teachers who were involved in this program. Thank you very much.
MIZUSHIMA Ayano (3-year of the Department of Intelligent System Engineering)
I participated in the online international training provided by Yeungjin University having 3 goals that were "I want to learn PHP", "I want to see how much people understand English I have learned", and "I want to participate in international training during COVID-19 pandemic".
I would like to tell you what I learned and felt about the class and Korean culture as well as if I achieved my goals in the blow.
● About Class
I was amazed by how well the Korean teacher and students explained to us when the class started and they made it easy to understand.
We learned basic PHP and Web in the class so that the beginner understood the contents. I had learned some of them before in specialized classes so it was more like review and I actually understood something that I didn't before. And the senior students had more detailed questions, so I learned something new even though it was done in English.
I learned PHP and HTML as well as I obtained knowledge of coding in the training. I have learned HTML a little previously, so I managed to clear the task. I remember that they gave me compliments when I cleared the task. It did not happen such a thing in Japan, so it made me happy and it gave me more motivation to learn.
I had so many things to learn such as something I did not understand HTML, something new of PHP in the training, but I learned well and I was more interested in the Web.
I listed "I want to learn PHP" and "I want to see how much people understand English I have learned" as my goals. I think I achieved these goals because I learned something new and remembered something I forgot, also, I communicated with Korean students in English.
●Korean Culture
I would like to say two things mainly because I was more interested in Korean food and school culture. Firstly, it is about food culture. Beef sashimi is not prohibited in Korea, but it is in Japan. Also, Korean student recommended a sweet sake "chamisul" because it was "tasty". Chocolate mint flavor is popular now. There are different chocolate mint flavor groups in Korea and I think it is the same as in Japan.
What I was surprised about school culture, there were almost no extracurricular activities in Korean high schools. Some students join music bands and one of the students who supported us in the training was also a member of a music band. But they spent most of their time studying basically.
●Summary
I think international training is much more fun than what other students who have not participated in before think. I actually thought "It seemed a lot of preparation and hassle" and I did not have the courage to join. But I learned many things by joining the training with a little courage. I even felt "I wish it could last longer!" when the program was close to the end. Some people may think "I cannot speak a foreign language" "I am not good at it", but please participate in the program next time with a little courage. I would like you to communicate with and experience differences in culture.
Lastly, I really appreciate to teachers and students of Yeungjin University who gave us such an opportunity as well as all participants who were involved in this program. Thank you very much.
---