NEWS
2022.01.04
Teachers and 8 students of the 3rd-year of the Department of Business Administration provided a class to the 6th-grade students of Higashikiwa elementary school on Monday, August 30. The topic of the class was "Let's become a person to be able to work worldwide!"
We send our teachers and students to elementary and middle schools in our neighborhood and provide classes to children with various topics. But we changed it to online this time due to the COVID-19 situation.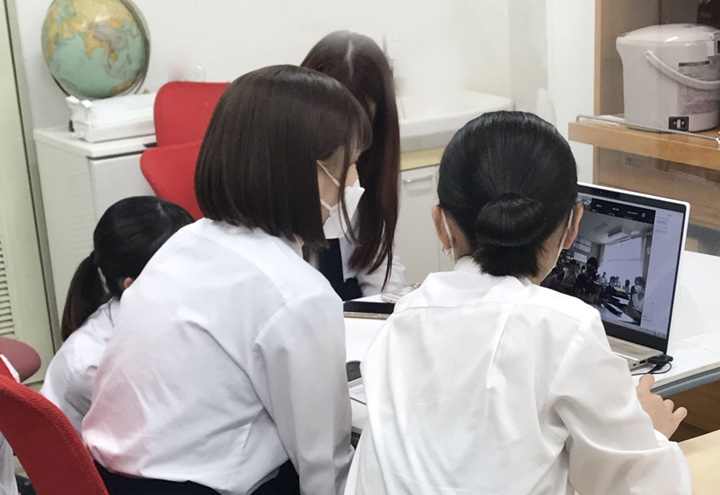 During the online class provided by our students
One of the PowerPoint slides we used

Background screen for the online class
(wrote the letters inverted because it was through a camera)
Our students needed to prepare the class differently compared to previous classes because it was online this time. So, they had to think how to communicate with elementary students, what the effective expression way on the screen as it was not the same as face to face class. We conducted an on-demand class that was broadcasted to 3 classrooms of the 6th-grade students. The class was done by quiz-style so that the elementary students understood better world geography, history, culture, politics, and Ube Kosen international exchange. We also introduced our schools to each other and some elementary students had questions about Ube Kosen. Our students had fulfilled time because they saw the elementary students participated in the class actively even though it was through the video camera.
We originally planned to provide face to face class, so it was almost cancelled. But we managed to provide the online class with special efforts and it gave a big achievement to our teachers and students. The COVID-19 situation is still critical, but we would like to continue to connect the local community and develop our students learning by being careful as much as we can to the infection. We would like to ask for your understanding and cooperation with our school.
---