NEWS
2022.11.24
2 graduate students from Wenzao Ursuline University of Languages (Kaohsiung City) have visited Ube Kosen for practical training to teach the Chinese language since October 2022. We have signed an academic exchange agreement with Wenzao Ursuline University of Languages.
Internship students are HO, TAI-HUA and WU, YU-HSUAN who are from the Department of Applied Chinese of Wenzao Ursuline University of Languages. They have already completed the Chinese language education courses to teach foreigners in Taiwan. They received a scholarship called the "Overseas Internship Program" from the Department of Taiwan Education, and they came to Japan to teach the Chinese language as internship students.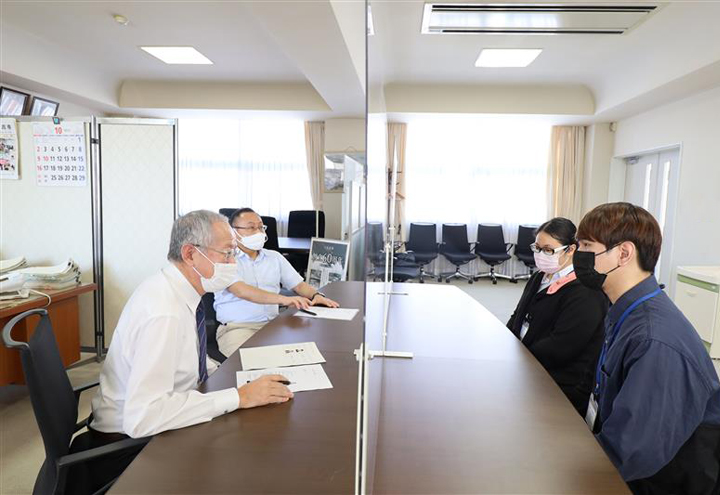 Internship students reporting to President Yamakawa
They visited President Yamakawa with Prof. Hatamura (Department of General Education) who was their academic supervisor, and they told President Yamakawa the purpose of the internship and resolutions.
They will stay at Ube Kosen for 5 months, until the end of the fourth term (end of February 2023). They will teach the Chinese language to our 4th-year students, create a video for online classes, and conduct a Chinese language class for local people during their stay. They will also participate in the international exchange outside of the school as well as the Hakucho Dormitory, and they will be in charge of a supplementary class for our students who will go to take training in Taiwan next March.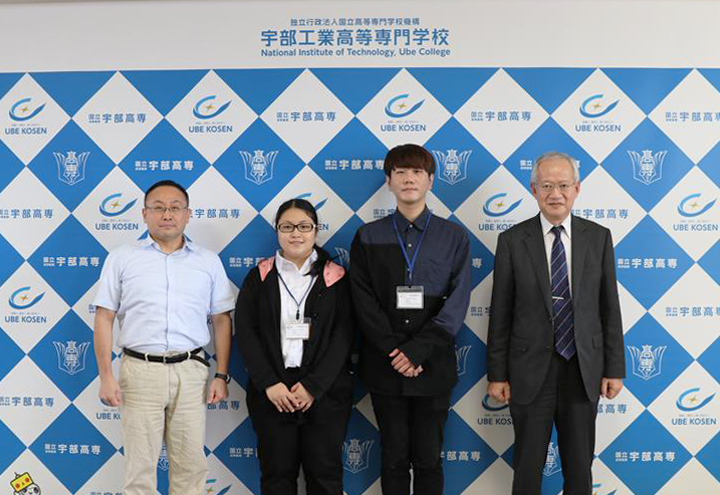 Picture with President Yamakawa
---