NEWS
2022.12.21
9 students (4 1st-year students, 2 2nd-year students, 2 3rd-year students, and 1 4th-year student) joined a language training at Singapore Polytechnic from Sunday, August 21/22 to Sunday, September 18/2022. The language training was conducted for the first time since it was canceled due to COVID-19 3 years ago.
| | |
| --- | --- |
| During the class | Speech made as one team |
The training program was named "Cross Cultural Communication" by Singapore Polytechnic. The content of the training was to learn English, the history/ culture and food of Singapore, Singlish, etc., so that our students understood Singapore deeply. English class was done mainly by teaching the method of speech, but also it was used popular topics in Singapore such as movies, videos, music, and news during the class. In addition, as a feature of the training, there were many activities outside of the classroom. Students joined a tour to learn Singapore's history and visited museums, Sentosa Island, Chinatown, and so on. They had the assignment to interview tourists and local people when they visited each place.
During the training period, students of Singapore Polytechnic supported classes and living for our students as a volunteer actively. Singapore students took our students sightseeing and shopping on days off. It was a good experience for our students that they communicated well with local students.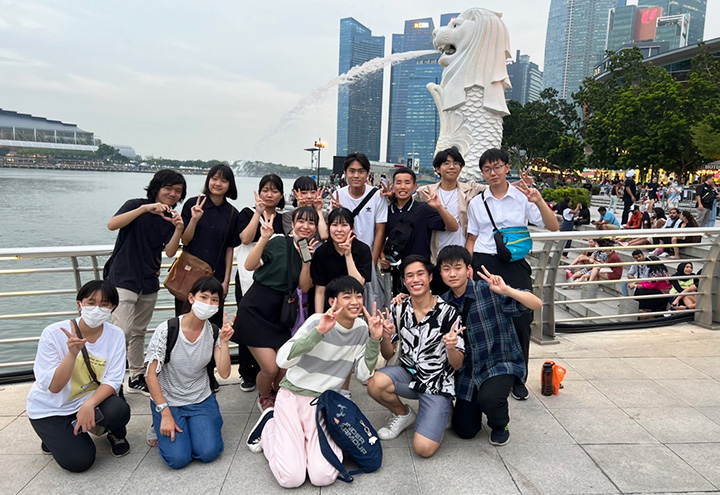 With volunteer students of Singapore Polytechnic
---