NEWS
2021.02.24
We had "NIT. UC – UiTM Student Leadership & Networking Seminar" with MARA University of Technology, Malaysia (UiTM) which we signed MOU. Ube Kosen students go for training to UiTM every year. The seminar was for two months length, from October 23 to December 24. A total of seventeen students (from 1-year students of the regular course to 1-year students of the advanced course) participated in the seminar and they communicated with UiTM students online (Zoom) in English and Japanese.
Both schools were not able to do the "face to face" international exchange activities like before so that we decided to do it online. Seventeen students of UiTM who were interested in Japan including the Japanese language registered for the seminar. All participants of students and faculties from both schools relating to the seminar joined the open seminar on October 23. After the open seminar, they separated into some groups and introduced their own culture in English or Japanese, then discussed it.
The seminar was held once a week (forty minutes). Students introduced their countries and had a discussion based on a topic they prepared in advance. For example, when the topic was food culture, they showed some pictures of meals in Japan and Malaysia and moved to a discussion. The discussion on the topic was done in English, but we also had time that Japanese students taught Japanese to UiTM students in each session. On the eleventh seminar which was the final, all the participants got together and each of them had a presentation for the achievement. Ube Kosen students performed the presentation in English and UiTM students did it in Japanese.
| | |
| --- | --- |
| UiTM student's materials for the final presentation | At the final presentation |
We would like to continue the international exchange activities under the current situation as we discuss with our partner schools even though we cannot have a regular international exchange activity because of the COVID 19.
We will have the same type of seminar in 2021 again and we will collaborate with other Kosen schools that also have a relationship with UiTM so that the seminar will be larger scale.
KIDANI Ena(3-year of the Department of Chemical and Biological Engineering)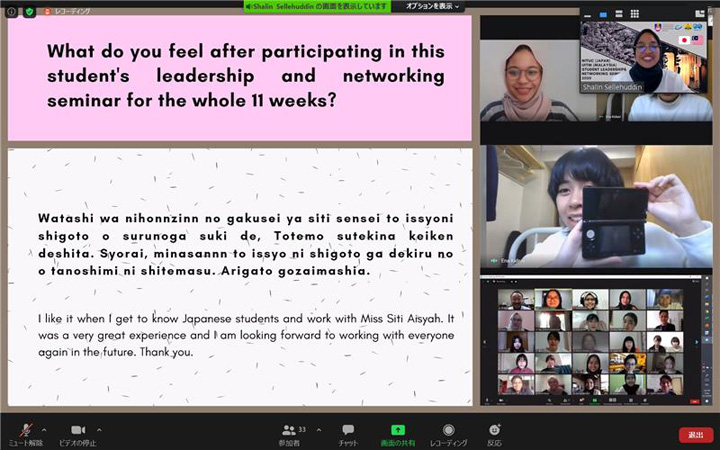 Ms. KIDANI making a presentation
It was my first time to join such a program as a leader. I learned it was so important how to support each member as the leader through this project. Many students were not familiar with a computer even though the seminar was done online, and we had a lot of problems with UiTM students first because we had some disagreements, so I was worried if it would go well. But we discussed so many times and had a lot of trial and error, and all of us managed to participate in the seminar till the final. That was the best for me. I also learned it was possible to build the friendship between countries even though I was in Japan. It would be nice if the friendship would continue through other activities and social media, not ending the connection we made. I am sure that this program was a good experience for us. I appreciate Mr. Hashimah, Mr. Siti, Prof. Hatanaka, and Shalin (UiTM leader) for your support.
Shalin binti Sellehuddin (2-year of the Department of Oil and gas engineering of UiTM )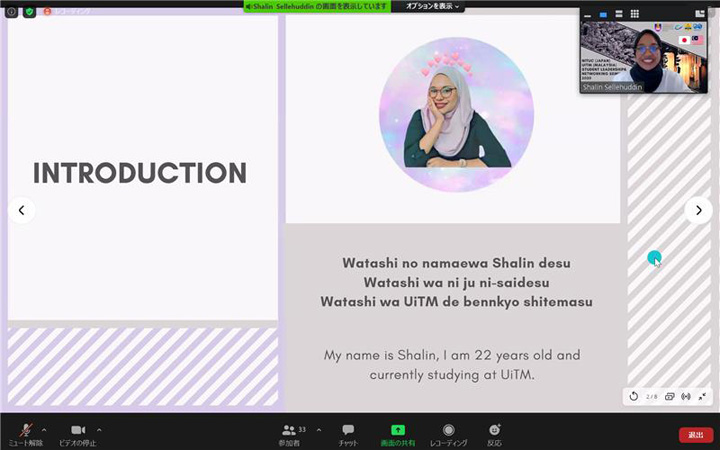 Shalin making a presentation
Konichiwa! My name is Shalin and I am currently pursuing my second-year Bachelor of Engineering (Oil and Gas) (Hons) at the University of Technology MARA (UiTM), Shah Alam, Malaysia. I was assigned as the group leader from the UiTM, Malaysia in the NITUC (Japan) – UiTM (Malaysia) Student Leadership & Networking Seminar 2020. Working together with NITUC, Japan is a good experience for me. The group leader from NITUC, Ena Kidani very helpful and we managed to work together for 11 weeks. It is such a pleasure to be given the chance not only to participate but organize such an impactful event. This program propels me towards acceptance and understanding of an array of different cultural. Apart from that, I also learn the Japanese language in a fun way with my partner. I am looking forward to join any program of cultural and language exchange from NITUC, Japan.
MATSUOKA Miyuu(1-year of the Department of Chemical and Biological Engineering)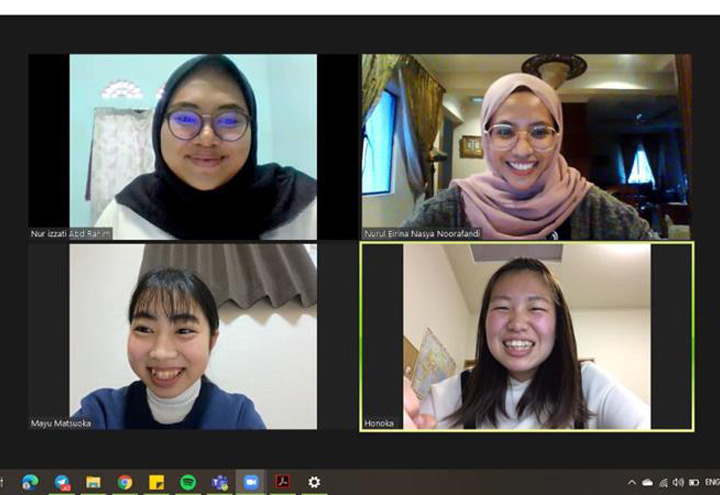 Ms. MATSUOKA at the seminar
(lower-left)
I am happy that I joined the program and had a great experience. I learned so many things about Malaysian culture from Izatti and Nasya who were the UiTM members of the group. When I have an opportunity to visit Malaysia in the future, I would like to go to KLCC park which was introduced to me, and see the beautiful scenery. Also, I would like to eat Roti Jala and Rendang Ayam which they said it was good. Also, I would like to try a game called Burger Shop that Izatti said it was famous in Malaysia. It was good that my speaking ability in English improved compared to the beginning of the program which started in October. If I have an opportunity to go to UiTM for international training, I would like to communicate with many Malaysian, so I will learn English and Malaysian culture more. The program has finished, but I would like to stay in touch with them and communicate with them in English and Japanese.
KAMIMURA Miori (2-year of the Department of Electrical Engineering)
Ms. KAMIMURA at the seminar
I made two friends, Aliza and Azizi, through Mara Online English. I enjoyed the conversation with them because they were very friendly. If I have an opportunity to visit Malaysia in the future, I would like to go to the Petronas Twin Towers in Kuala Lumpur. I heard the Petronas Twin Towers was the highest in the world and the view from the observatory was so beautiful, so I would like to see Kuala Lumpur city from the tower. Also, Malaysia is famous for fruits, so I would like to eat durian and dragon fruit. If I have a chance to visit UiTM, I would like to make more Malaysian friends and find out the difference between Japanese culture and Malaysian culture. I found it was interesting that Malaysia had their traditional dance and traditional clothing by talking to them. The seminar finished, but I would like to stay in touch with them. I enjoyed learning another country very much by joining the seminar. I would like to continue joining the international exchange actively.
NAGATOMI Shoichiro(3-year of the Department of Intelligent System Engineering)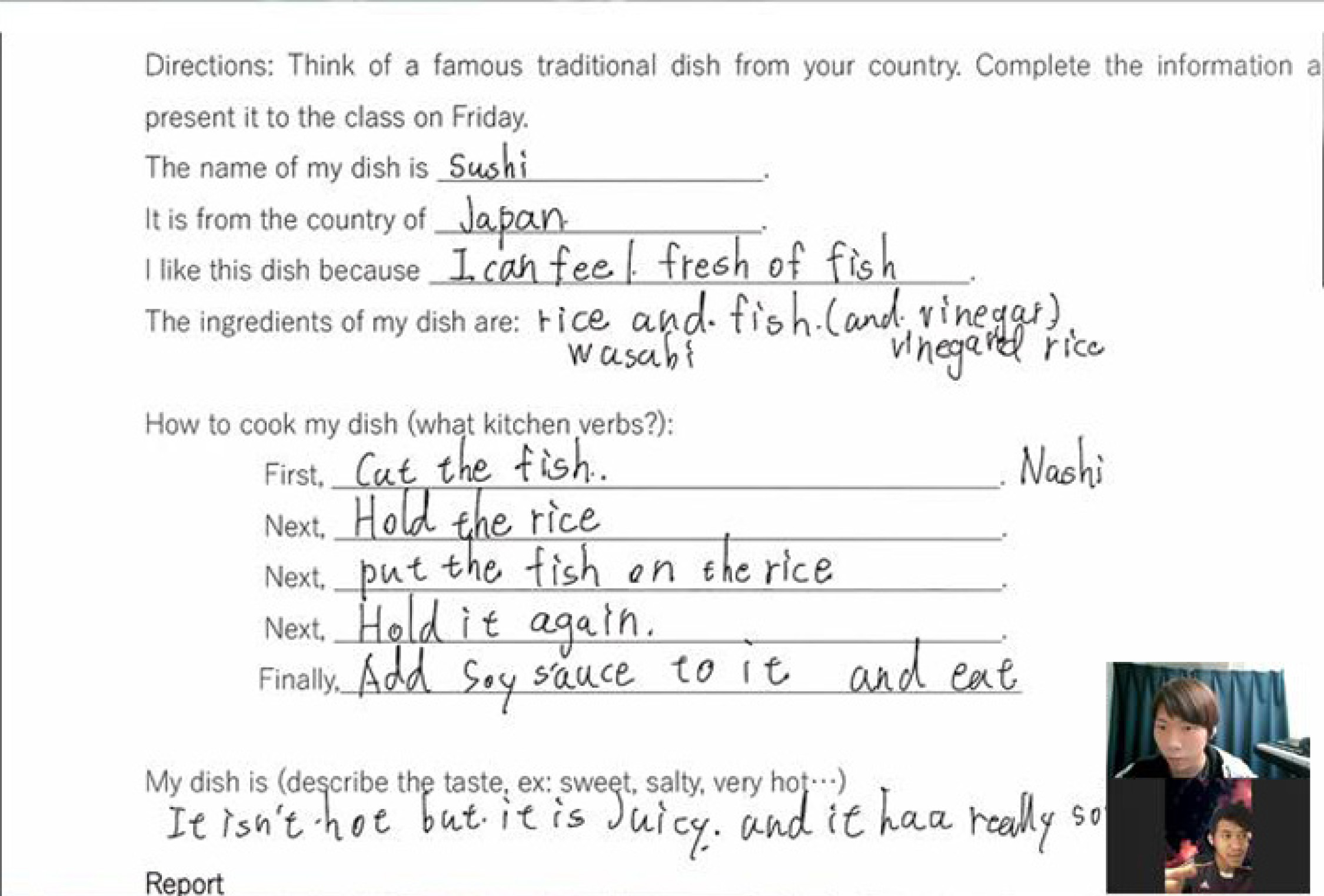 Mr. NAGATOMI at the seminar
Thinking back now, I think the English session was a lot of fun and fulfilling. I was worried first such as "Can I speak in English", "Can I get close to the UiTM students?", but I did not need to worry. I got along with Hazim who was the UiTM student. Because he was kind and his English level was high. I think all the Malaysian students in this program were like Hazim. If you think "I don't have English skills", "I don't have communication skills", but it should be fine even if you join the program right now.
I do not have both. But maybe I would say you need "aspiration". You do not have to prepare a lot. I am sure it will be a great experience, so please join in next time.
---