NEWS
2021.07.27
We have started "Student Leadership & Networking Seminar 2021" on June 4th and the seminar will last for two months. The seminar is run with MARA University of Technology, Malaysia that we signed a comprehensive partnership agreement. Ube Kosen students go to MARA University of Technology for training every year.
A total of thirty-five Kosen students have joined the seminar (thirty-one students from the 1st year of the regular course to the 2nd year of the advanced course of Ube Kosen, four students from Niihama Kosen, Ehime prefecture, and Matsue Kosen, Shimane prefecture, under the 4th block), and they will communicate online (Zoom) with thirty-five UiTM students for two months.
We had a kick-off meeting on June 4th. Students and faculty from UiTM and three Kosen schools gathered together online.
| | |
| --- | --- |
| At kick-off meeting ① | At kick-off meeting ② |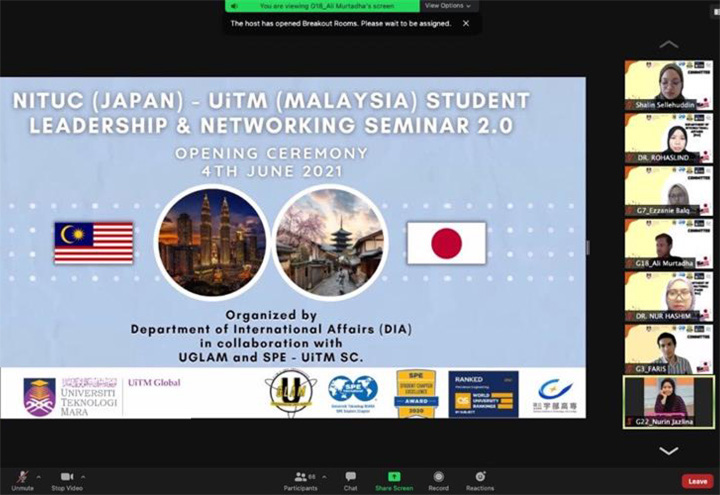 At kick-off meeting ③/p>
After the kick-off meeting, students were separated into pairs or groups that were arranged in advance and communicated respectively. They will have a cultural exchange in English and Japanese, also support to learn Japanese in each pair or group from the second week. They will get together again on the final day and report their achievement.
| | |
| --- | --- |
| Online English/ Japanese conversation with partner ① | Online English/ Japanese conversation with partner ② |
UiTM and Kosen decided to have international exchange activities online because we could not visit each other this summer as well followed by last year. We would like to continue international exchange activities under COVID 19 by discussing with our international partner schools and cooperating with other Kosen schools even though it is not the same as regular style activities.
Comment from participated students
TOMINAGA Shoichiro (4th year of the Department of Intelligent System Engineering, Ube Kosen leader of the seminar)
The most important thing in Ni-Mala for me is "all the participants enjoy it". I believe this is the best international exchange program that Ube Kosen students can have domestically. So, I do not wish to make the program that other participated students regret they joined. It is to "arrange the environment" for making all the participants enjoy the program. I thought "it is difficult to grasp how participants are doing" when the program started at first. So, I am planning to support them in a various way, but first I will make an environment that the participants find easy to ask questions. I will do my best for the participants of this program. Also, I am hoping I can grow myself with this program as a leader.
Ahmad Sirhan (Department of Chemistry of MARA University of Technology, Student leader of MARA University of Technology for the seminar)
This program has brought a lot of optimism and enthusiasm so far to the university and to me as well. When I was asked to lead the group by my coordinator, I had a few doubts, but I was ecstatic as I finally had a chance to improve my Japanese which I started learning a few years ago. The opportunity to make some new friends from Japan and UiTM also brought me a lot of excitement. This feeling is shared by my fellow UiTM students as well, as when we interviewed the candidates for the program, all of them were really excited at the prospect of making new friends, especially from outside of Malaysia. Some of them were in the same boat as me, where they were looking for a way to improve or learn Japanese, even though they did not know much of the language. The NITUC students have also impressed me as well. They have been very cooperative and friendly, and their English is also fairly good. All in all, I am excited to take part and see the end of this program and I hope that it is very successful.
Comment from a coordinator of the seminar
Siti AIsyah Binti Mokhtar (Special appointment associate professor of Ube Kosen, in charge of global engineer project)
With the overwhelmed responses from the participants, last year's UiTM (Malaysia) –NITUC (Japan) Student Leadership & Networking Seminar was a success. Therefore, for the year 2021, we also decided to hold the mobility program virtually via zoom between University of Technology MARA (UiTM), Malaysia and National Institute of Technology, Ube College (NITUC), Japan.
This year,70 students (35 students from UiTM and 35 students from NITUC) participated in the program. 2 students from National College of Technology, Niihama College and one student from National Institute of Technology, Matsue College also participated. Active participation allowed more students to strengthen the international ties between the two institutions.
The aim is for the students to know each other's history, traditions, culture, and personality, open up their minds to the world, and practice English and Japanese in the most relaxed and motivating way. Through this program, the student's leadership skills can be polished, and they enjoy teaching and learning English and Japanese. They also can improve their communication skills and language proficiency. I was impressed when most of the students can use some method and their creative way in order to communicate with each other. All the students from both sides were giving full cooperation to make sure the program can sail smoothly.
It is challenging to handle this extensive program, but thanks to the student leaders of this program, Soichiro Nagatomi (NITUC) and Ahmad Sirhan (UiTM). The student leaders give full support and cooperation to this program, and I have no doubt about their leadership skills. They should be taken as role models to other students too. Finally, I hope this program will end successfully.
---