NEWS
2022.03.01
We held the fifth global engineer lecture "Create a job where you want to go. How to make the future you never thought; I would be surprised if I learned about it when I was a Kosen student" online on Tuesday, December 7, 2021.
The lecture was planned as a part of "basic education enhancement to foster engineers who have excellent skills in international communication" which was a global engineer foster project. This was the last lecture in 2021, and it was done as a workshop style that was different from previous ones.
Nagatomi Shouichiro played a role as a moderator
(4th-year of the Department of Intelligent System Engineering)

During the lecture
The lecturer, Murakami Taku graduated from the Department of Chemical and Biological Engineering of Ube Kosen in 2003 and moved to Hiroshima University. After he graduated from Hiroshima University, he worked for one of the major temp agencies. Then He established SHIFT-x, a company of organization/ human resources consulting in 2017. After he established SHIFT-x, he developed international training programs for all over the world. He has been working on a new project in Yakushima, Kagoshima prefecture since 2021.
During the lecture, Mr. Murakami talked in detail about what was important for him when he was at the turning point in his life and what he learned from the choice of his life. He said how important to live honestly to your own thoughts by asking yourself "what do I want to do really?". He also said it was necessary to have "some words to give you courage" to challenge something, etc. as advice to our students. They were listening to him very enthusiastically.
| | |
| --- | --- |
| Group work #1 | Group work #2 |
In the workshop, students wrote down what remained in their minds from Mr. Murakami's lecture as well as questions, then they discussed it as a group. During the discussion, some students were talking about their dreams, and it seemed it was a good opportunity to look back at themselves.
We completed the 2021 global engineer lectures, but we would continue to have it next year as well.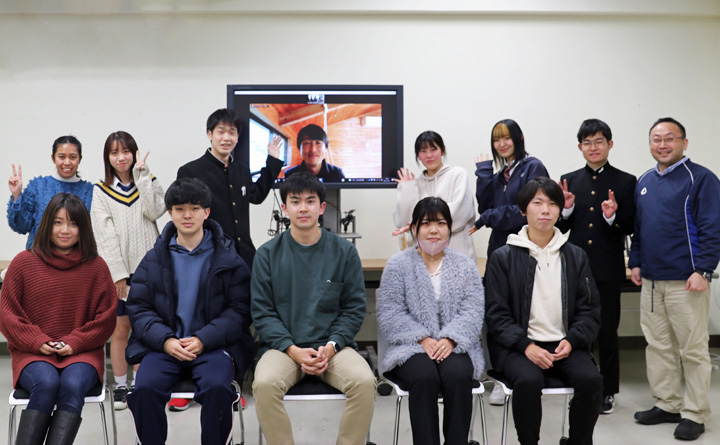 Group picture
Students Comments
Ohama Rei (4th-year of the Department of Electrical Engineering)
I attended the lecture to expand my view by listening to the story of the graduate who established his own company. The lecturer, Murakami Taku, established his own company by challenging many times. And he is now working on something new.
I often give up when I want to challenge something I want or something new because I am worried about a change in my environment, or I am afraid to fail. When Mr. Murakami said "it is important to listen to your inside voice and take an action with the thought of "it is O.K. to fail"" in the lecture, I was encouraged and I thought I wanted to challenge many things when I was young so that it should be O.K. to fail many times.
I would like to challenge many things like Mr. Murakami who always does his best with a lot of motivation.
Yamada Aya (4th-year of the Department of Chemical and Biological Engineering)
I would like to have my own cosmetic company in the future. I attended Mr. Murakami's lecture because I thought I might have something to get closer to my dream. I learned various things in the lecture, but there were two main things that remained in my mind.
The first one is that your life can be changed by your choice. You will have people opposing you whatever you choose. But it is your responsibility what you choose, so you need to satisfy yourself when you are at the turning point. The second one is it is no meaning if you do not take an action. Nothing good or bad happens if you do not take an action even though you really want to do something. I realized that it is meaningless if there is no action.
I would like to do things I learned in Mr. Murakami's lecture not only for looking for a job or establishing my business but in my daily life. I would do my best because when I look back at my life, I would like to think "it was good I made the choice. My life is fulfilled".
---