NEWS
2022.03.01
We had a cross-cultural experience tour to Kumamoto on Saturday, December 11, 2021. The purpose of this event was to provide an opportunity for international students to understand different cultures as well as to encourage better communication among international students and Japanese students. Eight international students of Laos, Mongolia, and Malaysia and twenty-nine Japanese students joined the tour.
On the tour, we visited Kumamoto Castle and then we went to Daikanbo (Aso City, Kumamoto Prefecture).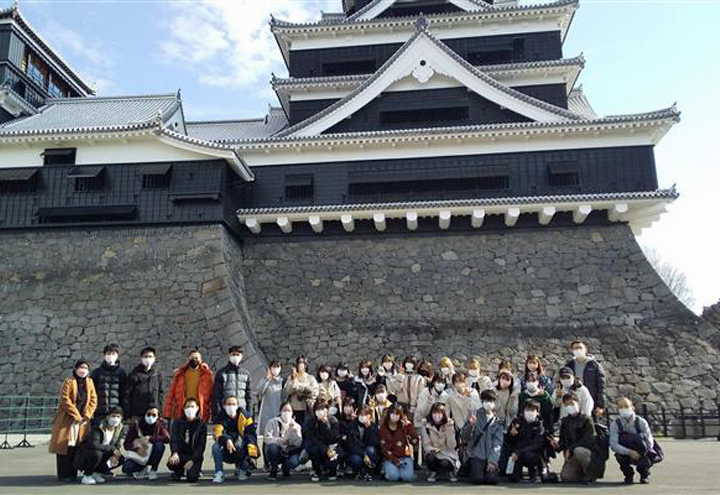 Group picture at Kumamoto Castle
At Kumamoto Castle, we separated into some groups of international/ Japanese students together so that they had better communication. They learned the history of Kumamoto Castle and the process of reconstruction from a natural disaster. Then, we walked around Kumamoto Castle and had lunch. We later moved to Daikanho and enjoyed Aso nature.
We had beautiful weather on the day, so there were some people enjoying parachutes in Daikanbo. It seemed to be an interesting experience for international students because there were different sceneries and activities from their hometowns.
It was a good opportunity for all the participants to learn Japanese histories and reconstructions from the natural disaster through the tour experience. The international exchange office would like to keep having activities to understand Japanese culture for both international students and Japanese students.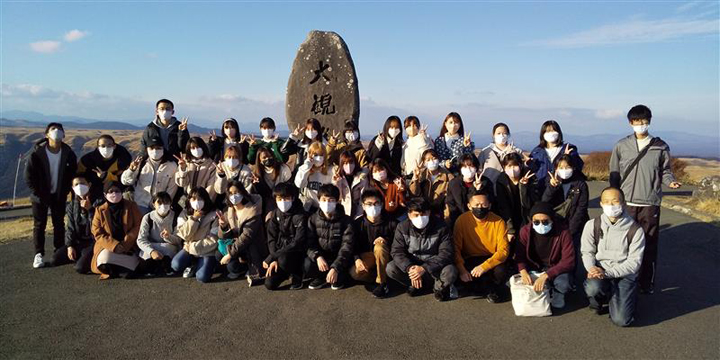 Group picture at Daikanbo
Students Comments
Nishiyone Rika (3rd-year of the Department of Business Administration, Leader of the tour)
We went to Kumamoto Castle and Daikanbo with a good protocol for COVID 19 for the cross-cultural experience tour. I hope this experience would be a good memory for international students since it was the first time to go outside of Yamaguchi prefecture for some of them. Many junior students joined the international exchange event this time, so I was also happy to see them talking to international students and listening interestingly other countries languages and cultures. It was hard to manage time during the tour because we did not prepare enough, so I would like to make better plans for next time based on this experience.
MUHAMMAD AMMAR BIN MOHD SALAMON (3rd-year of the Advanced Course of Chemical and Biological Engineering, International student from Malaysia)
Eight international students and twenty-nine students went to Kumamoto Castle and Daikanbo by bus on this tour. I was very impressed to see a Japanese Castle since it was my first time. The castle remains the beauty for 400 years. The tour guide told us many things about Kumamoto Castle's history and Kumamoto prefecture. I was a little tired to climb up Daikanbo, but I was very happy when I reached the top of the mountain. The scenery from the top of the mountain was very beautiful, a countryside view with nice weather. I was very happy that I joined the cross-cultural experience tour.
---