NEWS
2021.04.30
We had "Ni-Haro spring" (English conversation activity) in classrooms 1 and 2 on the second floor in the advanced course building for ten days starting on March 8, 2021. A total of six students joined the class (two students from 1st-year and four students from 4th-year).
Generally, we have an English camp (two weeks) at the Yeungjin University in Korea and international training (experiments/ practices relate to specialty) at the National United University in Taiwan in March during the spring break. But they were cancelled this year same as the summer international training last year due to COVID 19. "Ni-Haro spring" is one of the replacement activities.
Siti AIsyah Binti Mokhtar taught the class. She is from Malaysia and Siti was appointed as a specially assigned assistant professor for the Global Engineer Project last year. Since then, she has been teaching mathematics and chemistry in English to our junior students, also she has participated in international exchange activities. The English class activity has been done online and face-to-face since the end of last April. Two 1st-year students out of participated six students helped to run the class. Sundui Oyunchimeg who is a student from Mongolia (3rd-year of the Department of Chemical and Biological Engineering) participated in the class as a teaching assistant.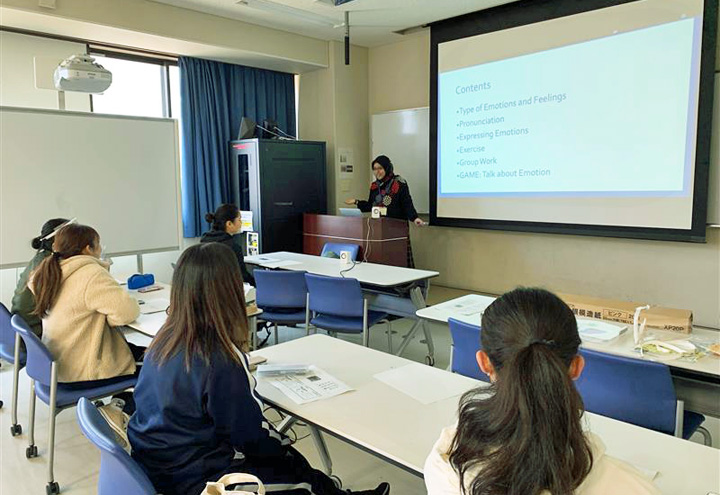 Specially assigned assistant professor Siti giving some instructions to students
| | |
| --- | --- |
| Making posters for a presentation | Giving a presentation with posters they made as a group in English |
The activity was weighed on to gain communication skills by listening and speaking in English. Students enjoyed learning in the role play method, such as practice to speak by changing voice tone or facial expression based on the feelings, the way of using phrases, gestures when you talk to somebody to meet the first time.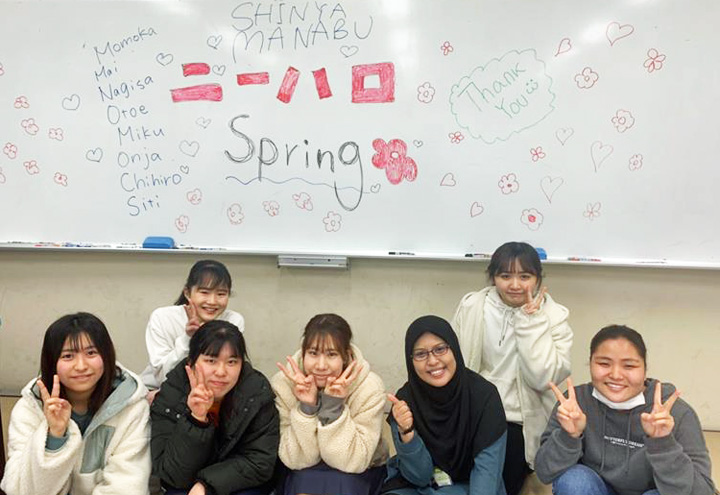 Group picture after the class
Ni-Haro will be updated and accept new students after April.
Student Comments
UMEMOTO Momoka (1st-year of the Department of Business Administration)
I joined "Ni-Haro spring" because I did not want to feel uncomfortable when I talked in English. The students who joined the class were all new to me except Mai FUJIWARA who was my classmate and Ms. Siti. They were senior students who were from a different department. I felt a little uncomfortable to speak and make a presentation in English to senior students who had a higher-level English skill, and who I never met before, I even got nervous to speak in English to somebody I knew. But it was a good environment to learn English by seeing all of them working hard without worrying to make a mistake. I would like to improve my skills by joining international training and Ni-Haro, etc. in the future.
FUJIWAWA Mai (1st-year of the Department of Business Administration)
I did not want to get involved in English when I was a junior high school student because I was shy to speak in public. But I learned that gestures, facial expressions, etc. were very important when I practiced conversation in "Ni-Haro spring" class. And I noticed there were ways to improve English skills by making efforts to tell what I wanted to say even though I did not understand the grammar or pronunciation, and I asked the grammar, words, pronunciation I did not know to the teacher, or looked up them by myself. I would like to improve my English skills and join an international exchange in the future.
---