NEWS
2021.04.30
2020 Ube Kosen Global Meister Certification Ceremony took a place in the president's office on Wednesday, March 3. Ube Kosen Global Meister started in 2017, and it is to give a certificate to a student who joins an international training program, language training, etc. which Ube Kosen organizes as well as plans/ runs an exchange activity, etc. with our long term and short term international students, also when they reach over a certain level of language skill, global mind, etc. Seventy-six students have been certified including six students who received this year since it started.
President YAMAKAWA Masao handed over the Global Meister certificate and badge to each student at the ceremony in the president's office on March 3.
| | |
| --- | --- |
| Front line: six global-Meister certified in 2020, Second line: six Ube Kosen excellent global-Meister | A student receiving the certificate from President Yamakawa |
Also, Ube Rotary Club started to award "Uchira Scholarship" to Ube Kosen Global Meister from 2020. Uchira Scholarship has started in 1969 when UCHIRA Yoshikazu who was a business person from Ube City donated 1,000,000 yen to Ube Rotary Club to show respect to his hometown.
At the ceremony, INOKUMA Tetsuhiko who is the head of the Ube Rotary Club gave the scholarship to six students who were certified this year and six students who were certified as excellent global Meister last year.
| | |
| --- | --- |
| From right, INOKUMA Tetsuhiko(head of the Ube Rotary Club), SHIMIZU Akihiko (board of finance of Uchira Scholarship),AKUTAGAWA Kikuji(executive secretary) | Students receiving the scholarship from Mr. Inokuma, head of Ube Rotary Club |
We expect students who were certified global Meister to join international exchange activities in the future and contribute to the globalization in Ube Kosen.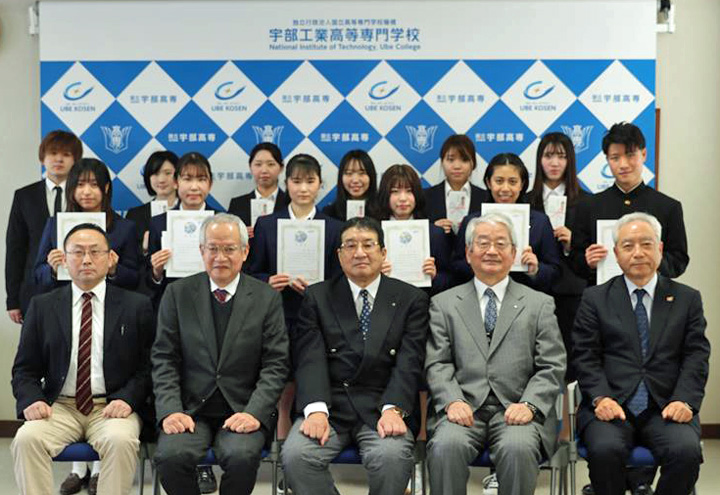 Group picture
Certified student in this year
Department
Year
Name
Mechanical engineering
Chemical and Biological Engineering
Chemical and Biological Engineering
Management Information Engineering
Management Information Engineering
Management Information Engineering
3
FUJIMORI Shunta
KITANI Ena
SOGO Risa
KOIZUMI Otoe
NAKAMURA Aika
MOTONAGA Nagisa
Certified student comment
MOTONAGA Nagisa (3rd-year of the Department of Management Information Engineering)
I got interested in the international exchange activity and foreign languages when I communicated with international students when I was a 2nd-year student. I went to study in Singapore in the same summer, and I learned different cultures and foreign languages by joining Ni-Haro and international exchange events after I came back from Singapore. I could not participate in any activities as I wished due to COVID 19 this year, but I would like to conntinue international exchange activities online in the future.
I received the certificate of "Ube Kosen Global Meister" and the scholarship from Ube Rotary Club. I would like to use the scholarship to improve my language skills, by online English conversation, purchasing TOEIC books.
I managed to obtain communication skills and teamwork skills because I went to study overseas. I was happy that local people understood when I told good part of Japan. I would like to improve my language skills first by connecting overseas as staying in Japan without losing pure and fresh feeling at that time.
---