NEWS
2023.01.16
We held a welcome party for the short-term international students in the learning commons on Tuesday, October 18, 2022. 60 Japanese students, 1 long-term international student, 7 short-term international students from Malaysia, and 2 short-term international students from Taiwan joined the party. They enjoyed communicating with each other by doing group work in Japanese and English.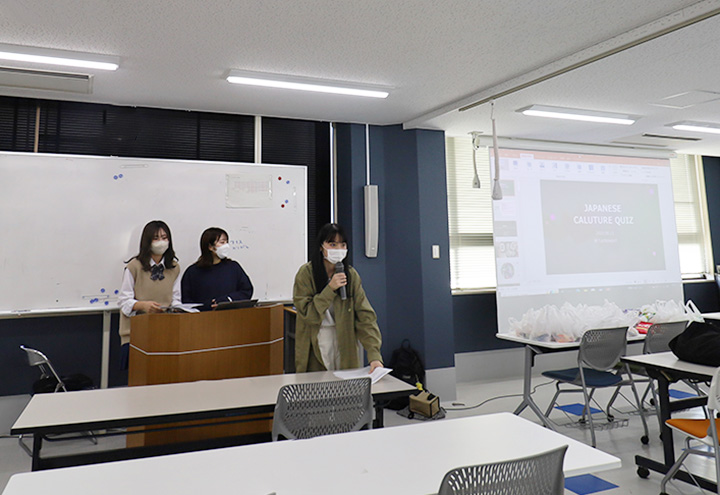 Greeting from a representative of the International Exchange Club
The party was planned and held by the International Exchange Club in the Students Association because they wanted short-term students from Malaysia and Taiwan who came to Ube Kosen last October to get familiar with the school as well as to have an opportunity for international exchange with Japanese students and other international students.
| | |
| --- | --- |
| International exchange through a game | Teaching how to do Origami |
In the event, Japanese students taught Origami to the international students in English and they competed on how many Origami they made in each group. They enjoyed making the communication. Many students from junior year to senior year joined the party. The learning commons was full of students and they enjoyed the conversation and got familiar with each other.
At the end of the party, they had a quiz about Japanese in English and each of the groups competed. International students and Japanese students in each group helped each other and challenged the quiz. After the activity, they got familiar with the international students. They took a picture together, exchanged Instagram, etc., and they had a great time.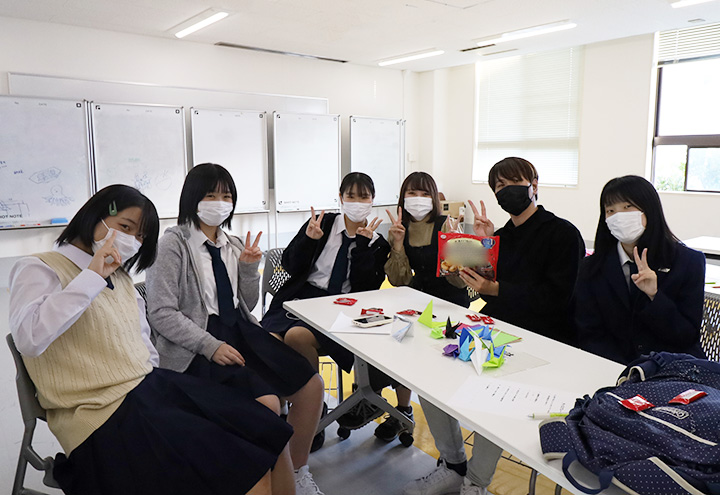 Group picture with international students
International Exchange Club organizes a Christmas Party and some events for short-term and long-term international students and Japanese students to experience Japanese culture. We use English and Japanese appropriately in these events, so any students who are interested in, more than welcome to join us. It is sure that you will have a great experience.
AHMAD FAIZ BIN NORAZAM
My name is Faiz, and I am one of the many students that had received an invitation for an internship and cultural exchange in Japan. Going to Japan is one of my dreams ever since I was young, and it had come true. When arriving at Shin-Yamaguchi station, Hatamura-Sensei and Mitani-Sensei greeted us with a smile they were very kind. The next day they held a welcome party for all the exchange students. The welcome party was amazing and fun.
At the welcome party we had 3 sessions, the icebreaking session, Origami session and Cultural Quiz session. All the students were divided into groups, where each group had one exchange student. During the icebreaking session all the exchange students had to introduce themselves in English as well as the Ube College students. During this session we were given a list of mission where we had to complete, some of the missions was searching for similar hobby play rock paper scissors and many more. The missions were fun, and I get to know more about the other students.
During the Origami session we were given origami papers. Each group were given the same time to make the most origami creations. Even though it was a race to see which team can make the most, I was doing it slowly with Kotaro-san, a student which was in my group. He showed me step by step on how to make an origami crane. My other groupmates were making origami hearts, flowers, and animals. It was amazing and fun.
During the Cultural Quiz session, they asked us many things about the Japanese culture in Yamaguchi. Such as the local specialty food, which was Kawara Soba. Besides just answering the correct answer, the other group members tried their best to explain all the answers the in English. One of the cultures I learned was about Shrimps and why Japanese people eat them. One of the reasons was because it is a symbol of longevity. I learned so much about Japanese culture during this session, especially Yamaguchi's culture.
This welcome party was an amazing experience, and now it makes me even more motivated to do my best in my studies. Learning new things and making new connections is an amazing experience. Finally, it is important to always ask questions and be curious about new things.
---