NEWS
2019.08.05
Nine international students from National United University (Miaoli city, Taiwan), Wenzao Ursuline University of Languages (Kaohsiung city, Taiwan) and Yeungjin University (Daegu city, Korea) reported their accomplishments on Friday, July 19th. They started their training at Ube Kosen in the middle of June.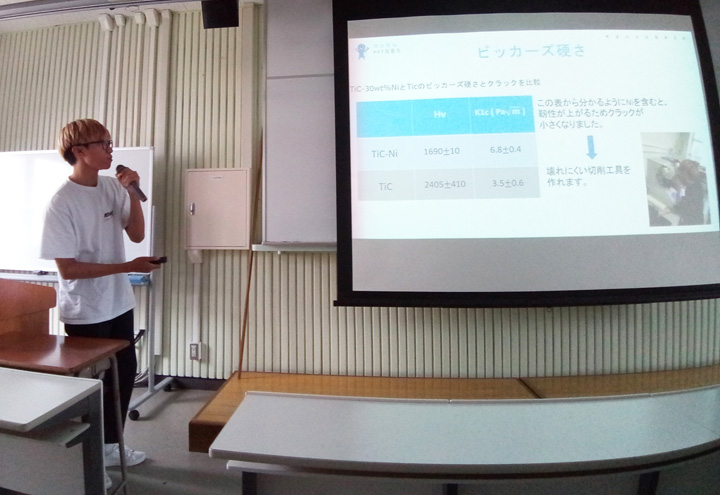 One of the students is presenting his accomplishment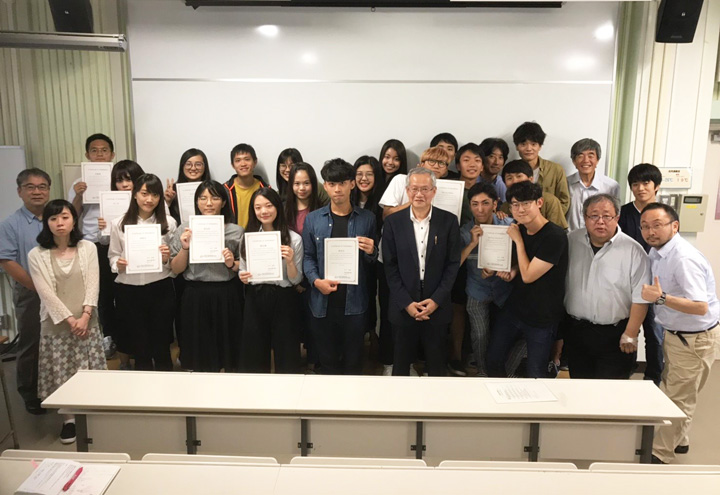 Group picture after the presentation
Seven international students were from Taiwan and two international students were from Korea. Five of them had the training such as experiments and practices in research offices in their specialized departments. And four of them had Chinese practical education training. All the students joined various school and dormitory activities after school and on weekends.
| | |
| --- | --- |
| Practical training (Chinese class at 2nd year students) | International exchange activity (Participated in Japanese traditional tea ceremony provided by flower arrangement/ tea ceremony club) |
| | |
| --- | --- |
| Farewell party | With international students |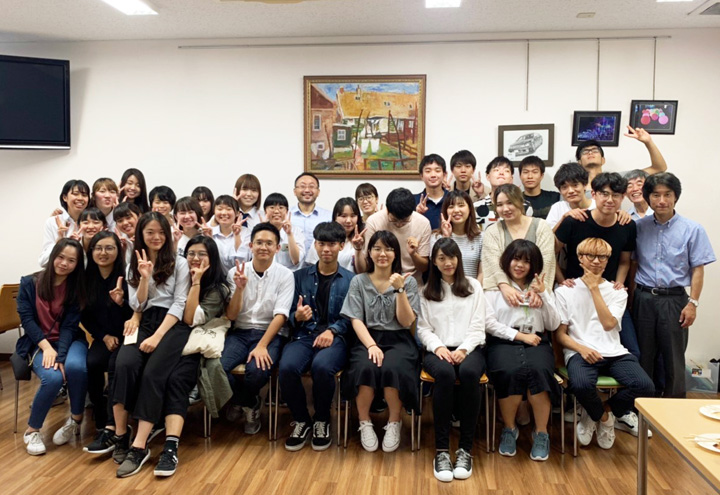 Group picture after the farewell party
We will accept some students from Taiwan National United University and Singapore Nanyang Polytechnic in second half semester.
Message from short-term international students
HOU YAN-JIUN (3rd year of Business Administration, National United University)
I am very happy that I had an opportunity to study in Japan. I enjoyed very much staying at Ube Kosen for 24 days during this summer training. I also learned so many things.
I learned an operational theory in NIH Business Management first, and I was able to continue my research. Then I managed to present my accomplishment in English. I would not be able to perform anything without Associate Prof. Nakaoka's guidance and his support. I was able to understand the study quickly because Associate Prof. Nakaoka supported me.
I had good time in the research office because it was pleasant to be with Kosen students. They were nice to me very much and supported me well.
The time I spent in Ube Kosen was very comfortable and enjoyable. I was very happy not only with a good living environment, but also I had an opportunity to spend time with Japanese and other international students from Taiwan, Korea, and Malaysia. The time I was with them is very important and nostalgic. I will never forget the wonderful days like the time I chatted with, the time I had meals with, the time I went out with in Ube Kosen.
Lastly, I would like to thank Prof. Hatamura. He took care of us, international students, by providing support, and he processed some paper works, made plans, and did other things for us. Thank you very much. Also, I thank all the support provided by faculties, staff, and students at Ube Kosen. With your hospitality, we were able to have a great time without any problems. I am looking forward to seeing you all sometime.
真的很高興自己能有幾會到日本短期交流,這次的暑期研修,總共在宇部高專待了24天,不僅非常的愉快,也讓我獲益良多。
首先,我認識了NIH這個運用在管理上的理論,且很順利的自己做了一份研究,更完成了英文版的個人成果報告,而這一切要感謝我的指導老師中岡老師對我的教導與幫助,讓我能迅速的瞭解研究;我也很喜歡與研究室的同學相處,他們都對我非常友善,也給予了我許多的幫助,使我愉悅的度過了在研究室的時間。
另外,在宇部高專,我們每天的生活都很舒適、快樂,不僅生活環境好,有日本當地及來自臺灣、韓國、馬來西亞大家的陪伴真的非常地幸福,大家在一起的每一刻我都很珍惜、很想念,不管是一起聊天、一起吃飯或著一起出去玩,我永遠不會忘記我們大家相聚在宇部開心、快樂的日子。
最後,要謝謝畑村老師對我們這群留學生的照顧與幫助,安排、處理我們許多大大小小的事情,真的很辛苦;也很謝謝宇部高專所有對我們好及幫助過我們的老師和同學,大家的熱情讓我們在日本生活的日子非常地順利且快樂,希望未來大家有緣能再相聚。
Ms. Chia-chi Tsai (3rd year of Chinese Language and Literature, National United University)
I am very appreciative that I taught Chinese as a teaching practicum student at Ube Kosen. When I found out the summer training at Ube Kosen, I was very excited and at the same time I got nervous and worried. Because this was my first time training and overseas. This training was such a challenge for me.
We were assigned to Prof. Hatamura's class (ten 2nd year students) and Mr. Nomura's classes (four classes of 4th year students).
I still remember my first class (2nd year students) to teach with my fellow students. Kosen students were very shy because it was their first time to communicate with foreigners. Also, students in the Chinese class were from different classes. So they were not that active. We did not expect such a reaction, so we only discussed how we would make them relaxed and not feel shy.
On our third day, we had forty students in a class. I never had such a teaching experience, so I was very worried about how to teach. But Prof. Hatamura and Mr. Nomura encouraged us and gave us confidence. They advised us to teach the class with confidence and smile. The class with mostly male students gave us a shock because the students chatted during the class and did not listen to the teacher. Luckily, we got closer to the students as time went by, we managed to find the best way to teach the students.
Prof. Hatamura and Mr. Nomura gave us some advice before each class started and we discussed how the classes went at the end of the day. That way, we developed our teaching skills. I appreciate your support.
首先,我很榮幸能夠來到宇部高專實習,進行華語教學。
從我得知暑假要來宇部高專實習的時候,我非常地期待、興奮,也很緊張、害怕。畢竟這是我人生中第一次實習,也是初次到海外實習。對我而言,這是個很大的挑戰。
這次的實習行程,我們有兩位老師的課,分別是畑村老師的二年級10位學生,以及野村老師的四年級的四個理科班級。還記得我和搭檔岷萱第一天上二年級的課時,學生們因為第一次與外國人交流,且是和不同班的同學一起上課,都非常地害羞,所以回應都沒有很活躍。讓我們受到很大的打擊,心想這樣的反應和原先我們預想的完全相反,只能回宿舍休息後,好好思考要如何讓他們放鬆地上課,也不那麼害羞。
到了第三天,是我們第一次上一個班級40個人的課,先前我們沒有過這樣的教學經驗,所以對自己的教學很是擔心。但畑村老師和野村老師一直鼓勵我們、給我們信心,要我們有自信、帶著笑容去上課。殊不知幾乎是男生的班級,在上課時,很容易自己聊起來、或是不聽老師的話,這也讓我們大受打擊。
慶幸的是後來的課堂,學生和我們都漸入佳境,彼此互相熟悉後,逐漸找到了適合學生,也適合我們的教學方法。
非常謝謝畑村老師和野村老師在每一次上課前給我們的建議、下課後和我們一起檢討當天上課的情況,讓我們能有所進步。
Mr. Jeong Hae Seon (1st year of Computer Applied Mechanics, Yeungjin University, Korea)
I had many new experiences during this short-term training such as making WC-Ni and tools. I was able to make cemented carbide with the advice given by Associate Prof. and fellow students in the research office. It was a very precious experience. I will use the knowledge and skills I learned this time to study further back in Korea. I thank Associate Prof. Shinoda, fellow students in the research office and technical staff.
---