NEWS
2019.12.10
As part of International Project promoted by the National Institute of Technology, Ube Kosen has a goal that Vietnamese colleges understand and accept Kosen education, and we have been promoting the project as the leading school cooperating with Hakodate Kosen, Tsuruoka Kosen, Gifu Kosen and Ariake Kosen.
Currently, our supporting schools in Vietnam are three schools which are Phuc Yen College of Industry (COIT, suburb of Hanoi city), Hue Industrial College (Hue-IC, Hue city) and Cao Thang Technical College (CTTC, Ho Chi Minh city), and we have been working on such as class improvements and curriculum designs.
As a result of our activities in the project, "Vietnam Kosen Course" was started at the Department of Electrical and Electronic Engineering of Hue Industrial College as a new advanced educational program collaborated with Kosen, and the entrance ceremony was held on September 19th, 2019.
People who involved in this project from Ube Kosen, Tsuruoka Kosen, and Ariake Kosen attended the ceremony, and a congratulatory message was read on behalf of President of National Institute of Technology, Isamu Taniguchi, and also, President of Ube Kosen, Masao Yamakawa made a congratulatory speech.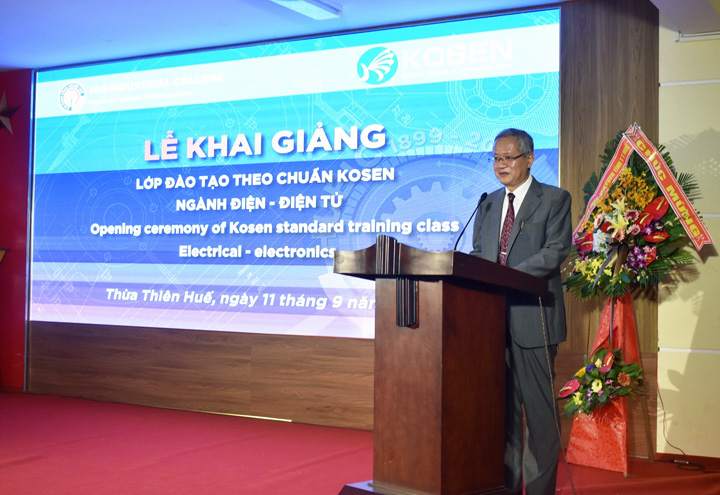 President Yamakawa giving a speech
Twenty-five students have made a first step to be a practical engineer as the first generation of the course. We will continue to support teaching method improvements and the like, and will contribute to foster talented industrial people who bridge between Japan and Vietnam.
Group picture
---