NEWS
2021.05.07
ASAMURA Gaku gave a speech on Friday, April 23. He graduated from the Department of Intelligent System Engineering and he currently works for Japan Aerospace Exploration Agency (JAXA). About thirty people of students, faculties, and staff listened to his speech eagerly for one hour.
The topic was " Backstage of the domestic rocket development – Tanegashima to Chile, and Space". He first worked at Tanegashima Space Center for four years in Kagoshima, and moved to Tsukuba Space Center (Tsukuba City, Ibaraki Prefecture). He has been involved in the ground management system development and application that support the safe launch of the rocket.
When he went to the down-range station in Santiago, Chile to track a rocket and maintain/ make an application for the data receiving station in 2017 – 2018, he learned that it was possible to communicate without using English if you had specialized skills and knowledge and develop a good relationship while he worked and lived with local engineers together.
Also, he said it was important to have a connection with the world outside of school domestically and internationally. Further, he eagerly mentioned he wanted to be an "engineer who can compete in the technology using English just as a tool" instead of just learning English because the language barriers would be solved by information communication technology in near future. At the question and answer session after the speech, many students asked specialized questions and Mr. Asamura answered each question well one by one.
KIDANI Ena (4th-year of the Department of Chemical and Biological Engineering) was the moderator.
She is the head of the Student International Exchange Club.

Participants are eagerly listening
to Mr. Asamura's speech.
| | |
| --- | --- |
| Students asking questions after the speech | Poster for the speech/p> |
Comment from ASAMURA Gaku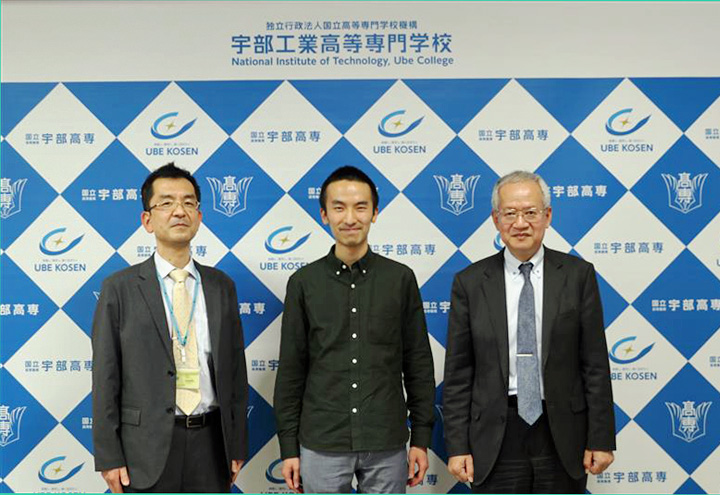 Prof. Miura (Academic Affairs Officer), Mr. Asamura, President Yamakawa in the president office
A rocket's responsibility is to transport the artificial satellites to the targeted orbit. During transportation, we keep watching it at the tracking station on the ground if the satellite travels safely. I talked about my work experience at the tracking station in Chile with the space development history and the newest information. When I was at Kosen, I went to Shandong, China under the international exchange project and also went to study English at Newcastle University. Because I had some international experiences while I was at Kosen, I was not nervous to communicate with people beyond the nationalities and generations. These experiences have been helpful at my current job. I am not good at English. But I obtained skills to tell my thoughts and contents of technologies non-verbally. You can still obtain these skills through activities inside/ outside of the school even it is difficult to go overseas during COVID 19. I would like you to spend some time to maintain the relationship with your good friends and check the world outside of the school while you are at Kosen.
Participated Student Comment
SHIROMIZU Ako (3rd-year of the Department of Intelligent System Engineering)
I did not know well about space and rocket, but I learned what the situation of Japanese rocket manufacture was like and how Mr. Asamura was involved in it. I was relieved when he said "It is O.K. that you do not understand English." because I was not good at learning English and he had many international experiences. Surely, I will do my best to learn English, but I would also like to improve my communication skills by contributing to student union and club activity. And I would like to contribute to any activities outside of the school. Moreover, I would like to study hard in the next three years in Kosen so that I can compete with others in skills, not languages.
WATANABE Yosuke (2nd-year of the Department of Intelligent System Engineering)
I attended the seminar because I was interested in how a Kosen graduate contributed internationally. I learned well in Chile such as food, language, and atmosphere, also I learned what kind of work Mr. Asamura was involved in even though I did not know about space. Especially, I was interested in the rocket's manufacture and launch. When he said "Have a connection with the world outside of the school." at the end of the speech, I felt it was very important. I would like to have an open mind in my daily life not only thinking one thing and involve with many people who are outside of Kosen as Mr. Asamura contributed to various fields such as club activity, student union.
---