NEWS
2020.10.22
An opening ceremony of the Department of Industrial Electronics (Kosen Model Course) was held at the College of the Industry and Trade (COIT) in the suburbs of Hanoi, Vietnam, on September 15, 2020. There were thirty-two students (twenty-two male students, ten female students) in the department.
It is the second school that has launched the Kosen Model Course under the Kosen Model Program Introduction Support Project in Vietnam, and it is the first 5-year education course to accept junior high-school graduates.
Ube Kosen is the lead school for this project, and we worked together with Hakodate Kosen for designing the curriculum of the COIT. We will continue to support to improve the contents of classes, designing career education.
Dr.TANIGUCHI Isao, president of the National Institute of Technology, could not visit Vietnam to attend the ceremony due to the COVID 19, so that Mr.HAYASHIDA Eiji, head of the Kosen Vietnam Liaison Office, read Dr. Taniguchi's congratulatory message instead.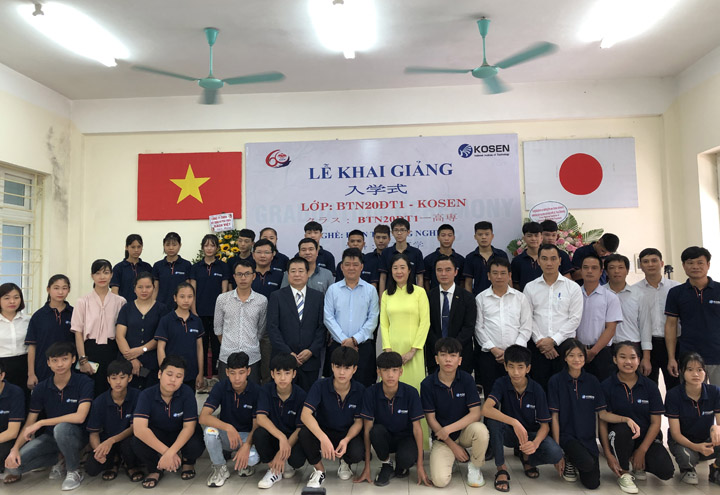 Group picture before the opening ceremony
First, the opening ceremony had the traditional Vietnamese dance that celebrates the country's establishment because the Department of Industrial Electronics just started.
| | |
| --- | --- |
| Students who learn Japanese at the Japanese center in the COIT and on-line course performed the traditional dance (bouquet sent by the National Institute of Technology, right side) | Welcome dance for new students performed by senior students, which performed normally at a Vietnamese ceremony |
Then, it continued to National anthem, Opening remarks, Introduction of attendees, Principal speech, President TANIGUCHI message read by Mr. HAYASHIDA, Dean of the Department of Industrial Electronics speech, Parents representative speech, Partner company CEO speech, and closing remarks.
After the opening ceremony, parents had an information session regarding school life, etc., and they were taken for a tour of the school such as classrooms, training rooms.
| | |
| --- | --- |
| Information session for parents | Classroom |
| | |
| --- | --- |
| Training room | Cafeteria |
We believe many people recognized Kosen Model Course at the COIT through the grand opening ceremony.
---