NEWS
2020.11.25
On Thursday, September 24, 2020, the Ministry of Industry and Trade of Vietnam (MOIT) held the second-round table meeting. People who participated in the meeting exchanged their opinions based on their positions such as a public sector, a private sector regarding human resources training collaborated with the implementation support project of the Kosen Model Program for Vietnam.
Moderator: Ms. PHAM Ngo Thuy Ninh, Manager of the Education and Training Human Resources Development Department, Human Resources Bureau, Ministry of Industry and Trade of Vietnam (MOIT), (upper left)

Meeting venue in Hanoi
Backside: Participants from JETRO Hanoi office, JICA Vietnam office,Japan Student Services Organization Vietnam Office, Japanese Chamber of Commerce and Industry Vietnam office, Thang Long Industrial Park, Canon Vietnam office, and Kosen Vietnam Liaison office
A total of 69 people participated in the meeting online due to the COVID-19 infection control.
JETRO Hanoi office was used as the meeting venue for the Vietnamese side and people from MOIT, MOLISA (Ministry of Labour – Invalids and Social Affairs), Technical College, Japanese government organizations, and Japanese corporations participated (some of them participated online). People from National Institute of Technology and Kosen schools that support the project participated in the meeting from Japanese side. The executive director of the National Institute of Technology, KOBAYASHI Yukinori, gave a speech first, and then the president of Ube Kosen (the project lead school), YAMAKAWA Masao, and the vice president of Ube Kosen, HITAKA Yoshikazu, explained the purpose of this meeting.
Vietnamese government promotes a policy of human resources training collaborated with educational organizations and corporations. They also explained that they had some incentive plans to support corporations that would involve educational curriculum designs for respective schools and educational activities.
Japanese corporations told what kind of employees they looked for and what kind of knowledge and technical levels they asked for their employees. They also pointed out how difficult to hire employees recently and employees did not stay long. Furthermore, they said they expected Kosen education to provide not only technical skills and knowledge but also safety education and management skills.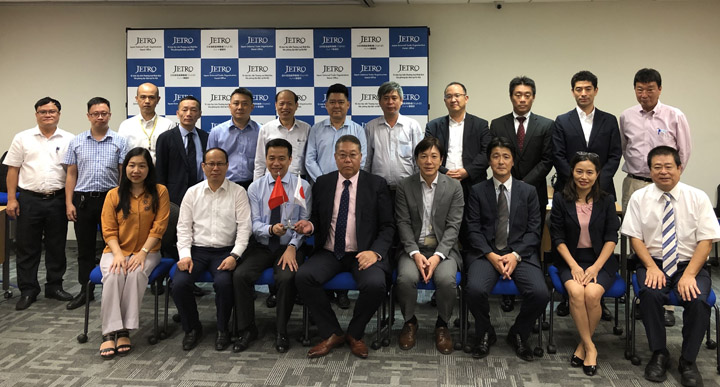 Participants in Vietnam
JETRO Hanoi office provided their meeting room for us.
The participants from JETRO and JICA shared the information about the Vietnamese market and career pass of Vietnamese.
The second-round table meeting was the first attempt to work together with people who were involved in this project from the public sector and the private sector. All the participants recognized how important the collaboration with corporations and the career education are. We agreed to maintain the specific collaboration.
---