NEWS
2022.01.25
We had an award ceremony for "the second E-learning English vocabulary contests" in the president's office on Tuesday, November 2, 2021.
The contest was planned to target from 1st-year students to the 3rd-year students of the main course to "increase numbers of vocabularies necessary for international communication" in "basic education enhancement to foster engineers who have excellent skills in international communication" which was a global engineer foster project.
58 students competed with each other to prove their daily study by using an e-learning system "ALC NetAcademy NEXT" provided by ALC EDUCATION for 12 days from Monday, October 11 to Friday, October 22 at the second contest.
Three students with great scores were awarded a certificate from President Yamakawa and a gift from the supporter's association. Three students were WATANABE Yosuke (2nd-year of the Department of Intelligent System Engineering), FUJIWARA Mikumo(3rd-year of the Department of Business Administration), and TANIGUCHI Hina(2nd-year of the Department of Chemical and Biological Engineering).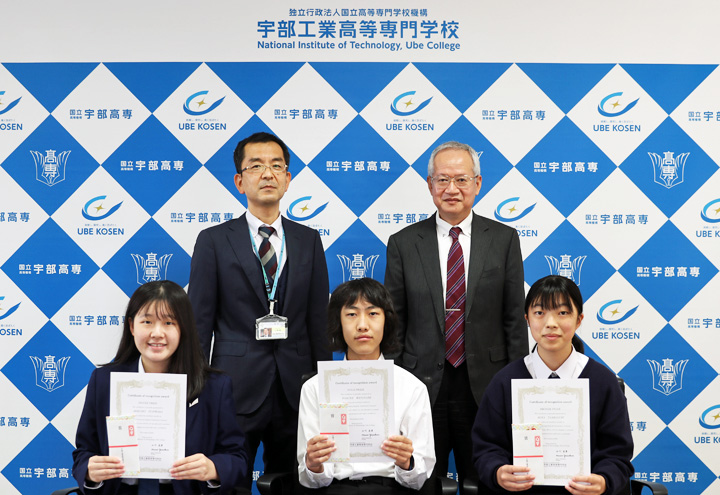 Picture with President Yamakawa(from front left to counter clockwise, FUJIWARA Mikumo, WATANABE Yosuke , TANIGUCHI Hina, President Yamakawa, Academic Affairs Officer Miura)
After the award ceremony, they talked to President Yamakawa. They told the reasons why they participated in the contest, such as "I did my best to get the first prize", "I studied for EIKEN second test", "I wanted to improve language skills to study abroad in the spring". President Yamakawa encouraged them saying "It is important to continue. Please challenge many things by learning a lot of English vocabularies."
We will continue to conduct an E-learning English vocabulary contest and plan to have the third contest in the 2021 fiscal year.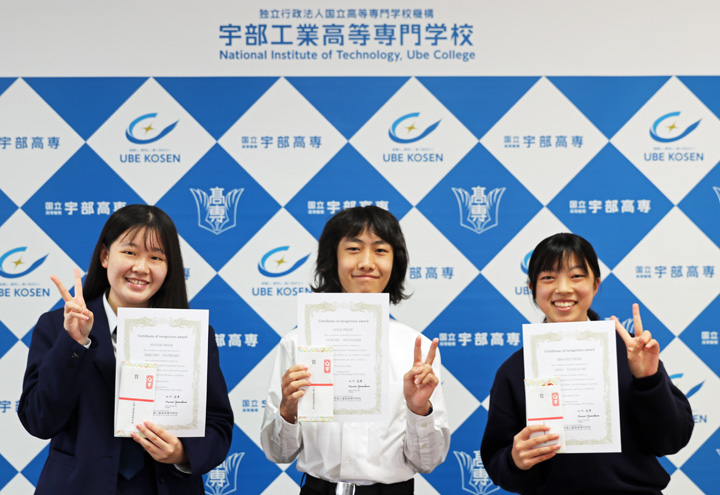 Winners with smile after the award ceremony
Lastly, we received some support from Ube Kosen supporter's association to conduct the contest. We would like to appreciate to them.
---