NEWS
2022.01.25
We held the fourth global engineer lecture "Plan to move to Europe ~possible for regular people~" online on Thursday, October 28, 2021. The lecturer was Shinji Kaneko. He is our graduate and he currently lives in Germany.
The lecture was planned as a part of "basic education enhancement to foster engineers who have excellent skills in international communication" which was a global engineer foster project.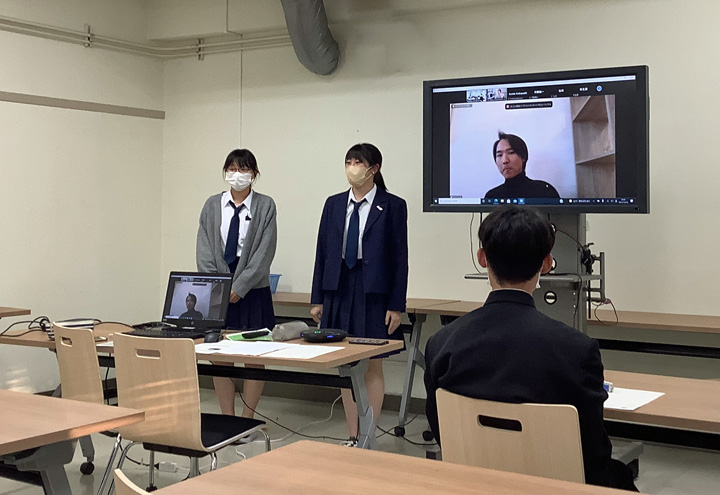 Our students played a role as moderators.
From left, KAMIMURA Tsukino (2nd-year of the Department of Intelligent System Engineering), MORI Misaki (3rd-year of the Department of Chemical and Biological Engineering) from the International Exchange Club of the Students Association
Mr. Kaneko worked for a chemical company in Kansai area for 2 years after he graduated from our Department of Chemical and Biological Engineering. He then wanted to challenge more opportunities so he came back to learn at our Advanced Course of Chemical and Biological Engineering and then he studied as a graduate student at Technische Universität Berlin in Germany. He studied energy engineering and data science. After he completes his internship in Germany, he will start to work as a data analyst for a battery-related company in Sweden in January 2022.
He talked about how he learned English before he moved to Germany and he also talked about his experiences such as classes and interaction with other students at the university in the lecture in a casual tone. We had some questions during the lecture in a relaxed atmosphere. About 30 students, teachers, and staff were listening to Mr. Kaneko's humorous responses.
Lastly, Mr. Kaneko sent a message to our students "Be clear what your dream is. You can research for your dream regardless your age. English is important, but I would like to enjoy your life".
| | |
| --- | --- |
| During the lecture ① | During the lecture② |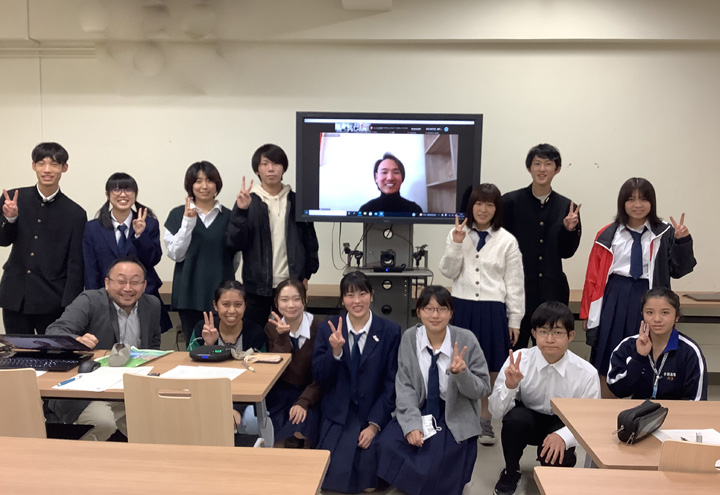 Group picture
Students Comments
DOI Shuri(1st-year of the Department of Chemical and Biological Engineering)
I attended the lecture because I would like to become a researcher worldwide in the future. The lecture was fun with humor and I learned the positive/ negative parts and difficulties to work overseas.
Firstly, it is English ability. I was thinking I was able to speak English better than other students because I took DMM English conversation class. But I found out I was thinking too easy after I joined the lecture.
Mr. Kaneko called himself as a "regular person" during the lecture, but I thought he had more ability to take action than other people as well as he continuously made efforts for the long term.
I would like to use what I learned in the lecture when I decide on my future. I also would like to study hard not to make narrow my future selection while I am a student and expand my possibilities.
MORI Misaki(3rd-year of the Department of Chemical and Biological Engineering)
I was always interested in overseas and I felt Mr. Kaneko's story was so close to me, so I volunteered as a modulator. Mr. Kaneko had humor and all the students enjoyed the lecture.
I also learned many things through his lecture. What I thought the best from the lecture was to have a spirit of "it is OK if you don't die". I thought he made a lot of effort in many places. I have to have so much courage to be like Mr. Kaneko such as not to worry about risks, to feel free from the past. That is why I was excited to listen to his life story. Overseas is my dream. If I want to make my dream come true, not just dreaming, I have so many barriers to get over, more than anybody. I will do my best to make my dream come true. I would like to concentrate on what I can do now and enjoy it.
---