NEWS
2021.09.16
Shimonoseki Lions Club donated a set of information equipment (a computer, projector, a large screen display, and a web camera) to us for helping with online international exchange activities. We really appreciate the donation.
The president of the Lions Club, Osamu Itaya, and a member of the Lions Club, Tatsumi Sawa handed the information equipment to Ube Kosen President at the ceremony for the donation in the Ube Kosen President office on Wednesday, July 14.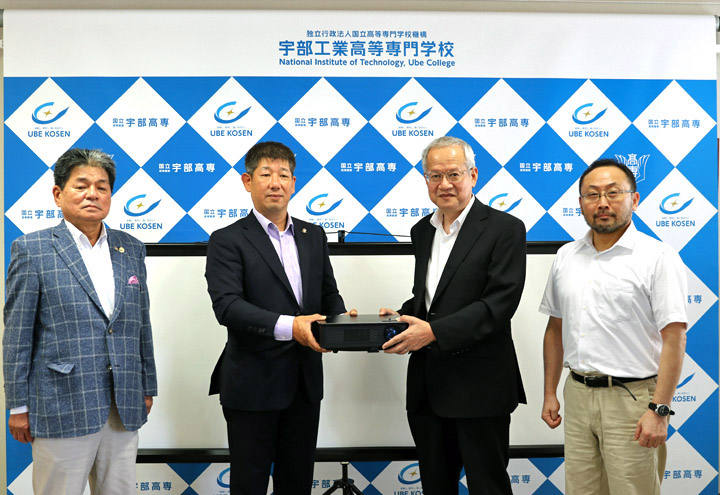 At the ceremony for the donation
(From left, Mr. Sawa (Shimonoseki Lions Club), Mr. Itaya (President of Shimonoseki Lions Club),
President Yamakawa, Prof. Hatamura (Head of the international exchange office))
Ube Kosen and Shimonoseki Lions Club made an agreement for the purpose of cooperation with each other in the international exchange activities between Japanese students and Taiwanese students in February 2018. Since then, we have helped each other to support international exchange activities for Japanese and Taiwanese students such as Taiwanese students visit Ube Kosen when Shimonoseki Lions Club invites the Taiwanese students as international exchange students, when our students who are from Shimonoseki go to National United University in Taiwan for training, Lions Club provides scholarship.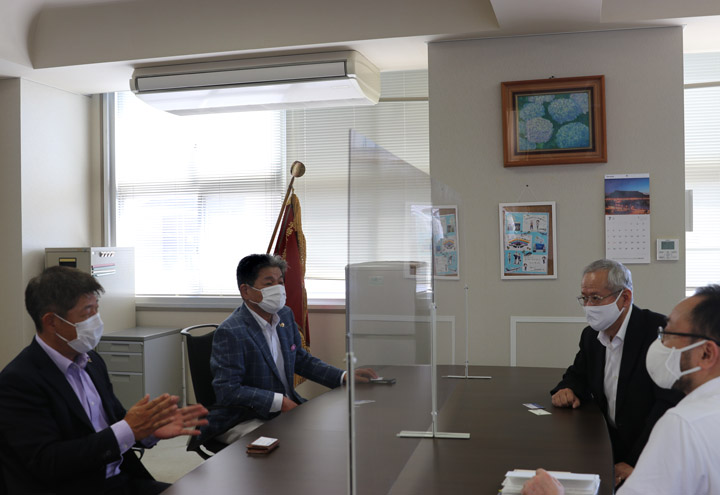 Talking about Japan and Taiwan international exchange situation
Due to the worldwide pandemic, neither Japan nor Taiwan could send/ accept students so that we changed the way of activities to online. We will continue to have exchange activities with international educational organizations using the information equipment that has been donated since we will keep doing online activities.
---