NEWS
2021.04.30
Three students who were certified as Ube Kosen Global Meister this year made a report at Ube Rotary Club Regular Meeting held at ANA Crowne Plaza Ube on Thursday, March 18.
Ube Kosen Global Meister certification system started in 2017 and a total of seventy-two students had been certified since. Ube Rotary Club decided to give "Uchira Scholarship" to Ube Kosen Global Meister this year. Three out of six students who were certified as Global Meister this year reported at the meeting.
First, Prof. Hatamura (head of the international exchange office) explained Ube Kosen Global Meister system and the three students reported one by one.
NAKAMURA Aika (Third-year of the Department of Business Administration) reported an international exchange activity of Ube Kosen that she joined in her 2nd-year and an online international exchange activity this year. She also said about international training in Taiwan that was cancelled due to COVID 19.FUJIMORI Shunta (Third-year of the Department of Mechanical Engineering) made a presentation about that he went to study London in UK because he was accepted by TOBITATE! Study Abroad Initiative in the summer of 2nd-year. He said he was satisfied even though it was his first-time visit overseas but there were no troubles. SOGO Risa (Third-year of the Department of Chemical and Biological Engineering) reported many valuable experiences such as her first international exchange activity at Ube Kosen that was "traditional house experience with international students" she joined when she was a 1st-year student, English camp at Yeungjin University in Korea, support for international students and various international exchange events at school, and Ambassador activity.
| | |
| --- | --- |
| SOGO Risa giving a presentation | FUJIMORI Shunta giving a presentation |
| | |
| --- | --- |
| NAKAMURA Aika giving a presentation | Right before the meeting starts |
At the end of the meeting, INOKUMA Tetsuhiko(head of Ube Rotary Club) commented that "I learned it was much easier to go overseas compared to when I was a student, like half a century ago. Please use the experiences you had not only during you are at school, but after the graduation."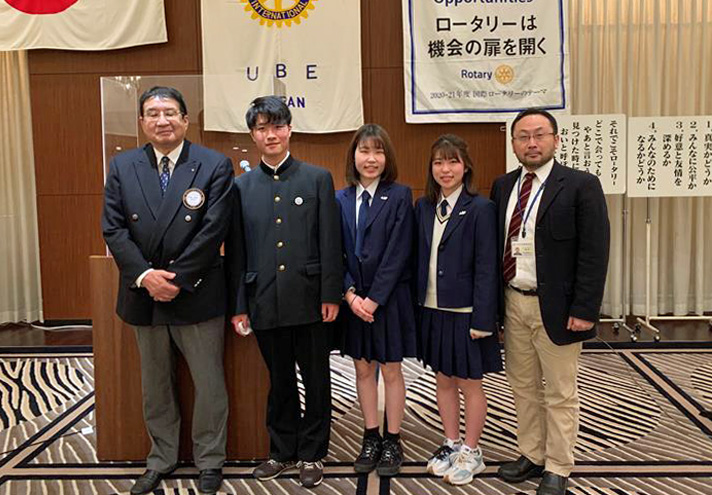 With Mr. Inokuma (left)
---