Other sports・Outdoor activities
---
Swimming club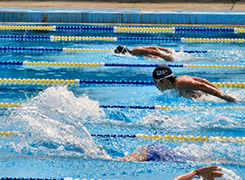 We practice swimming for competitions during the season, and have fitness training during off-season. Regardless of the experiences of swimming or gender, the members who love swimming get together. Swimming is an individual competition, and also a team competition. We are practicing hard to break a personal best, and to win first place in National Institute of Technology Athletic Competition in Chugoku district.
---
Track and Field Athletics club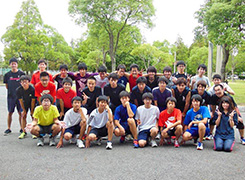 We practice at Ube athletics stadium after school on weekdays. We divide into long-distance running and short-distance running. Many of the members started track and field after they entered Ube Kosen, so we have various practice menus suitable to each ability. The seniors and the juniors are very friendly, and we hang out outside of the club activity. Our club is very fun and attractive.
---
Street Dance club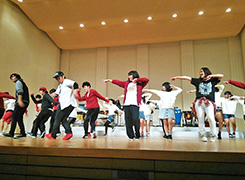 Is it too hard for beginners to dance? No, not at all! Anyone can easily try to dance! Almost all the members are beginners, but they are improving surely by practicing with the seniors and outside dancers. Also we are all friendly regardless of the grades or gender. Every day's practice is not easy, but you can achieve a feeling of accomplishment, and you can be moved on the day of the show. You can't experience this at other clubs. Let's share this enjoyment!
---
Trekking club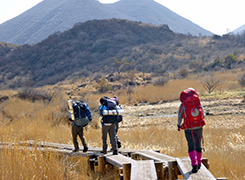 Do you know about our club? Yes, our club is climbing mountains. We practice every day for climbing. To show the results of our hard work, we climb a mountain once a month, and we have climbing camps in spring and summer. We have climbed Mt. Daisen in Tottori, Mt. Kujyurenzan in Oita, Mt. Ishiduchi in Ehime, and so on. You can feel overwhelming beauty of nature, you can achieve a good feeling of accomplishment, and you can learn how important daily life is.